Oh, the seats, side tables, and poufs design that we all check out on the internet and wish to incorporate in our home! But how? Poufs are a popular versatile piece of furniture. They're a fantastic accent item for practically any space, since they're endlessly flexible and bring a burst of individuality to your house. That's why not only the designers but also us, adore them!
Are you curious about this interesting piece of furniture or how to fit it into your home's decor? Here are 10 ways to use a side table and pouf to maximize your space.
Continue reading!
What Makes Side Tables & Poufs so Appealing?
A side table and pouf can elevate a space to greatness by a few factors. To begin with, a long-lasting substance on the pouf's outside will ensure its lifetime. What's better? A detachable, machine-washable cover. This isn't a deal-breaker, but it does make cleaning your pouf a whole lot simpler! This is a particularly useful tool for families with children and pets. A superb pouf must also have a good filling. This keeps the form of the pouf and enables quick fluffing if it becomes squished. Finally, the size of a pouf and side table may make or break a design. You want a pouf that isn't too huge to be an ottoman, but not too little to be inconvenient to use. When picking the proper size pouf for your house, you'll want to keep your area in mind.
Additional Seating
Talk about great use of additional seating! Turn your side table and pouf into that last seat if you have company coming or simply need an additional chair so no one gets left standing. This is particularly effective with poufs that are higher and have a more substantial filling. Using poufs as extra living room seating is a designer favorite during the hosting season when you're in a hurry for more chairs.
A Way for Filling an Empty Space
Do you have a random void in a room or hallway? A pouf can easily fill awkward, open spaces. They'll also bring both style and functionality! (This is a terrific idea to have a pouf on available for use as an unplanned additional seat while giving it a place to hang on a daily basis!)
Bloomingvile—Sue storage stool
A Coffee Table for Kids
We recently spoke about how great poufs are for kids. You don't have to confine them to the playroom, though! If you have little children, avoid the harsh corners of a coffee table and instead go for a pouf (or a collection of poufs!). For families with small children, large poufs are a perfect alternative to a coffee table. There's no need to be afraid of sharp corners here! Later, they may be reused as playful seating in a child's room.
A Touch of Uniqueness
Poufs and ottomans don't have to serve a specific role in your home. They may also be just ornamental, and they're a great way to give a place a little individuality! A pouf may give texture, colour, and shape to a location you wish to enhance or highlight, making it a statement element in your room's overall decor.
A Foot Rest
You don't have a chaise on your sofa? It's no issue. You may use a pouf as a footrest for any seat in your living area. They provide all of the benefits of a couch with a chaise at a fraction of the cost! They're also lightweight and portable, allowing you to push it around your living area or even relocate it from room to room as required. They aren't only for living room designs, though. In your nursery, use a side table and pouf as a footrest for your rocking chair or glider, or as a reading nook next to your chair!
A Bench at the Foot of the Bed
Instead of a typical bench, a pair of poufs offer texture, pattern, and usefulness to the end of your bed. It'll become your new favorite spot for putting on shoes, laying out your clothing for the next day, or dumping your bag for pre-vacation packing! Don't you love that?
Cushy Seating In a Game Area
The side table and Pouf are soft, light, and safe for children. As a result, low poufs make excellent children's chairs in a playroom or gaming area! They're entertaining to play with, provide comfortable low-to-the-ground sitting, and are simple to move around the room to wherever they're required!
Placing it in Front of the TV
One method to beautify your living room is to place an ottoman in front of the television. It may also be used as a cocktail table. You may even use the side table and pouf as a makeshift bar table if you want to watch TV while sipping a drink after a hard day at work. This piece has a useful tray so you can reach the inside storage without disturbing anything put on the surface, and it combines the comfort of a thickly-padded ottoman with the practicality of a lift-top coffee table.
Side Tables and Poufs For Casual Dining
The nicest part about using ottomans and side tables in your informal dining area is how much room they save. After your lunch, simply push them beneath the table or out the window to make room.
Use as a Decorative Item
If you have a lovely, eye-catching ottoman, you may utilize it to complement your room's style by blending it in with the rest of the furniture. Experiment and decorate with the ottoman to make your living space more appealing.
Square storage ottoman with rose golden legs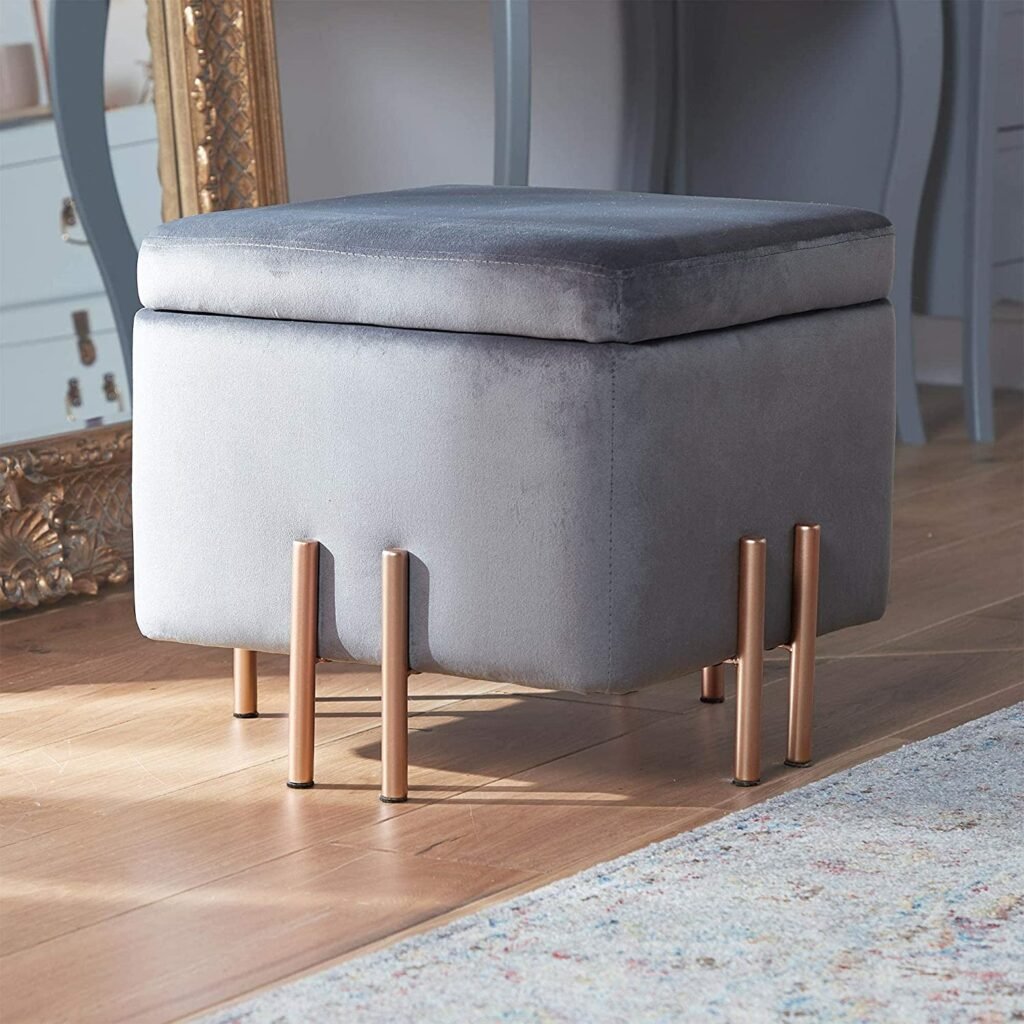 ISO TRADE wooden bench stool with storage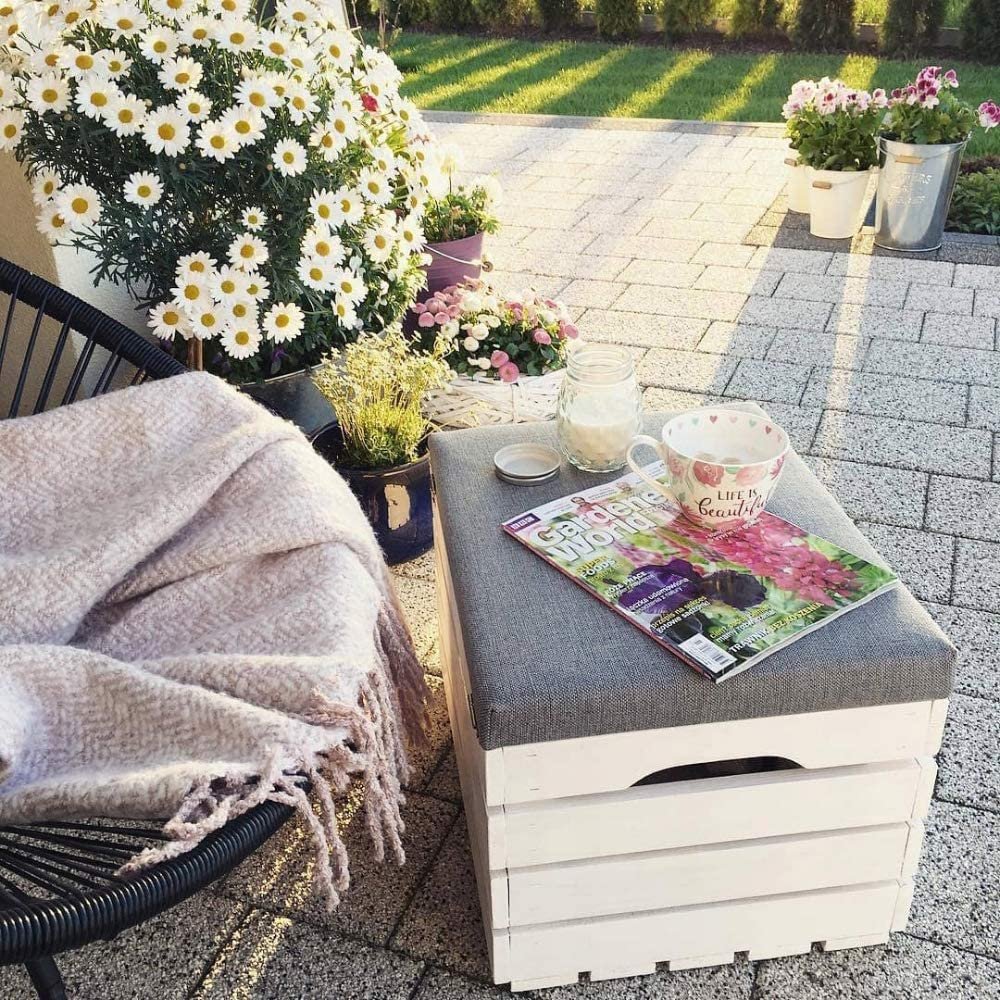 We hope you find this blog to be informative. Please let us know which way you prefer your side table and pouf. You may also subscribe to our newsletter to know more insights on your home products! You may also write to us about what you're searching for next, and we'll write some of our best articles. Until then, please like, share, and comment on Realicozy.
Realicozy.com may get compensated if you purchase from our independent affiliate links in the article.