There are always endless tales on the accent chairs because they could breathe a fresh look into space. The accent chairs can differentiate themselves from the other items in an enclosed area like a living room, make a loud declaration, and tap personality into the room. Unlike the big furniture or an architectural structure, accent chairs are easy to replace and remodel. Like fashion style, it always alleviates us from the existing home establishment, which has been there for quite some time, bearing weary visual tiredness.
Accent chairs could allow you to change the flow of the room without a monumental makeover. It draws attention to anchor the sight and enables the vision in a consistency. Even they're the most versatile statement piece in the room and could work with many ideas, there are still some considerations before you pick an accent chair. Hereafter are four tips when you make the choice:
Work With the Current Style
The purpose of positioning accent chairs is to accentuate, which means to highlight within the surroundings. It should go with the current style and fits with the rest of the room. For example, in Abstract Style, as quite a few unique architectural and decorative elements are used, it lends itself to bold colors. In such a case, accent chairs in contrasting colors may not be incompatible. It will cause vision clutter and create chaos. On the contrary, it is better to opt for ultra-minimal types of chairs, such as the modern Saarinen Chair, whose clear outline demonstrates a taste of simple elegance and adds a twist to make the room pop.
Picking Up the Right Color for the Accent Chairs
Usually, in a home, the 60% color is often dominated by the wall, large piece furniture, and floor-covering. The 30% secondary color goes to the Accent furniture, window treatment, and other sizeable tapestries. And the rest 10% lies in artworks, soft decorative furnishings, throw pillows, small decorative accessories. Explore inspiration from the secondary colors and put them into your accent chairs. Always keep in mind that accent chairs add a statement to the room other than taking over the room. They create additional dimensions while imbued in the room's colors while standing out.
Accent Chairs' Scales Still Matters
There are many types of accent chairs, wingback, lounge, chesterfield, etc. Their size varies from big to small. To not let oversized chairs overpower the rest of the furniture in the room, it is critical to know the height of the couches and other chairs in the same area. The rule of thumb is to keep these surfaces equal in order to maintain the proportions of the room. A petite side chair will be faded away in a spatial living room or next to a large piece of furniture. Be aware of the sizes of items around the accent chair and make the best proportional alignment out of them.
Using Accessories to Enliven the Space
The most popular colors for accent chairs are usually ranging in blue, green, and muted yellow. A cushion or throws in contrasting color with the accent chairs will acquire a completely new outlook. It is wise to get inspiration and extract elements from small accessories in the same room to harmonize the atmosphere. Lamps, planters, or artworks all could contribute to this synchronization and create a perfect flow seamlessly.
These 8 Accent Chairs That Will Strike Afresh In the Living Room
Want to enjoy classic Old World charm without sacrificing American strength or functionality? This vintage French upholstered accent chair is here for you! Bringing with it an undercurrent of French grace, this Louis XV chair offers modern comfort with its contoured edges and the thick cotton padding of the seat, armrest, and backrest, cradling your body with soft support. The rubberwood frame and cabriole legs are weathered to an attractively lived-in look but will give you 330 pounds of capacity and years of dependable service. Functional pomo art with classic taste, this tufted Bergere chair works in any space and decor from traditional farmhouse to mid-century modern to contemporary minimalist. Whether cozied up to a living room side table or placed in your study, this vanity chair is sure to brighten your room and your life.
---
Welcome plush comfort into your home with the vintage style Bianca lounge chair and ottoman set. Constructed of durable rubberwood for exceptional durability and stable comfort, the Bianca is upholstered in a distressed brown faux leather effect fabric to give it a vintage feel. Perfect for a modern or minimal interior, the Bianca features a smooth angular solid wood frame in dark walnut finishing for a nod to mid-century modern design that exudes warmth. This retro-modern lounge chair set is built with clean paneled lines on the seatback, bringing relaxing vibes into your living room and complementing your home with lavish style. A stunning lounge set perfect for modern lounges and receptions, the Bianca is made in Malaysia and requires assembly. Color: Dark Brown/"Walnut" Brown.
---
The Anya Seating Collection by Jennifer Taylor Home offers fun, unique accent pieces for your home that are comfortable and versatile. The plush seat and high back with wings are perfect for long reading sessions. Pair two together for a great conversation seating set or set one in the bedroom for a cozy nook to wind down before bedtime. The Boho chic and eclectic vibes are perfect if you want to add a pop of interesting color and pattern to your space.
---
Tufted Linen Swivel Barrel Chair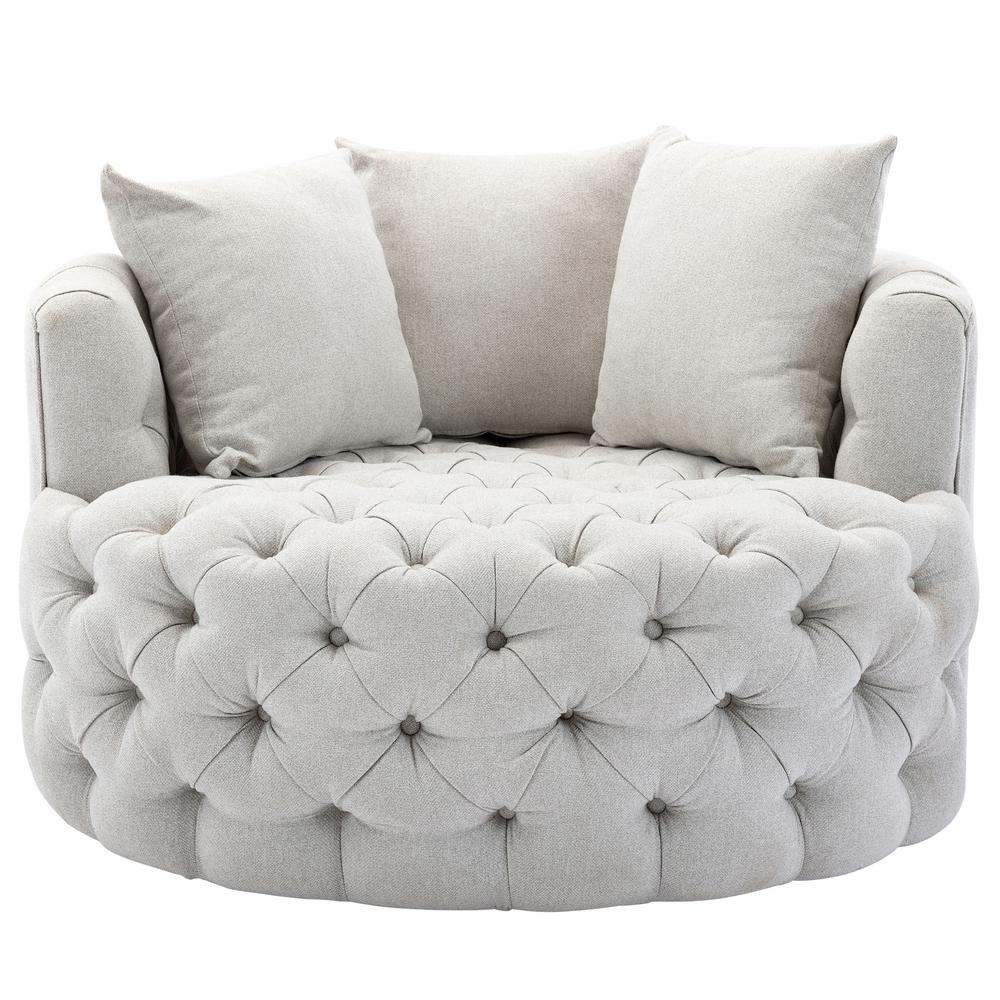 Whether you love curling up beside loved ones or you prefer lots of elbow room as you lounge, this oversized barrel chair is the perfect pick for your home—an oversized accent chair: cool comfort that never quits. With a seat cushion and a curved back, you will love its chair, modern look, and large-scale style. Color: Greyish White.
---
Instantly add an elegant, luxurious look to your home with the Zanetta lounge chair. The luxe and glamour-inspired design come through in the clean, square silhouette of the chair. The Zanetta is foam-padded for sumptuous comfort and upholstered in a stylish grey velvet. The upholstery is delightfully complemented by the glossy, gold-finished legs of the chair. The lounge chair features a gorgeous button-tufting design and edge piping for a sophisticated look. Welcome guests to your living room or reception area with the chic Zanetta, or even add it to your entryway for extra seating and a touch of glam. Made in China, the chair requires assembly.
---
Fennell Turquoise Blue Velvet-Like Fabric Channel-Tufted Barrel Arm Chair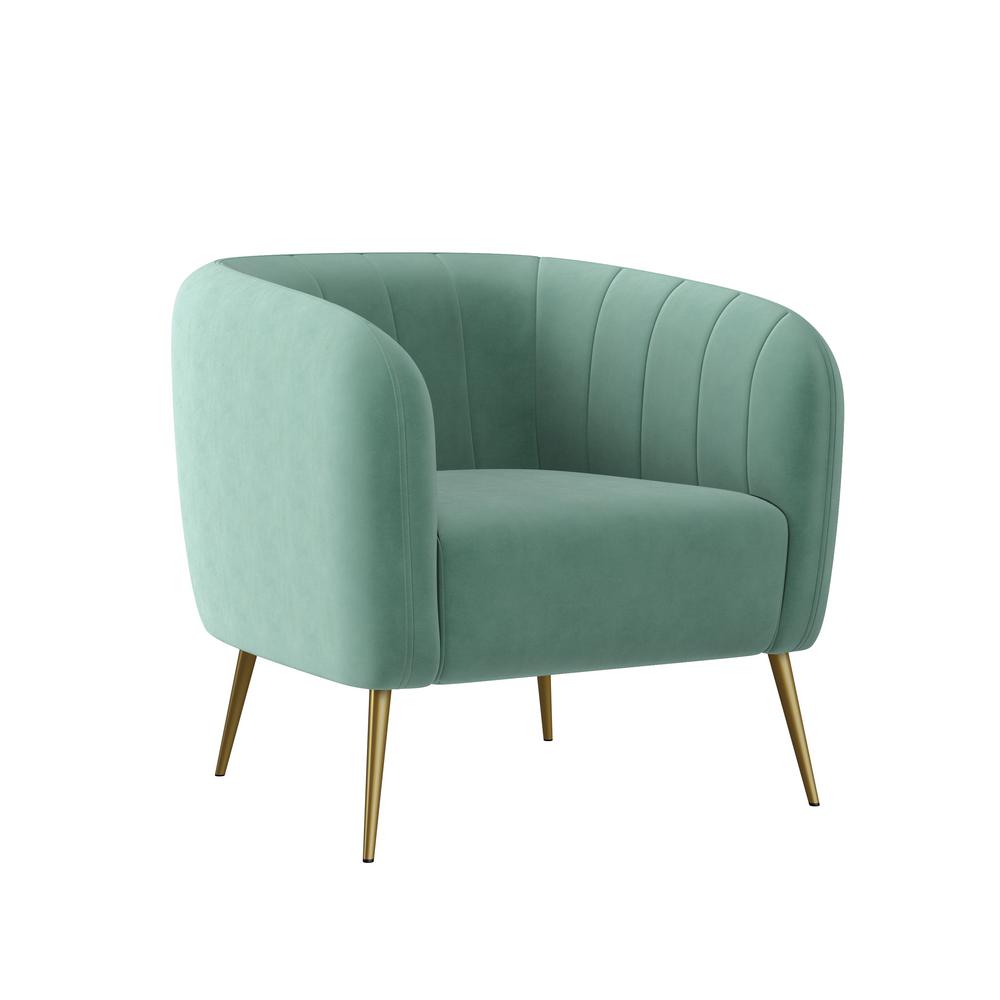 Lean back and lounge in this sumptuously styled barrel chair. This sophisticated chair features a rounded, channel-tufted back and arms and a deep, welcoming seat. Covered in a durable, easy-clean 100% polyester fabric. Seats up to 300 lbs. Easy assembly, simply attach the legs. Imported, color may vary.
---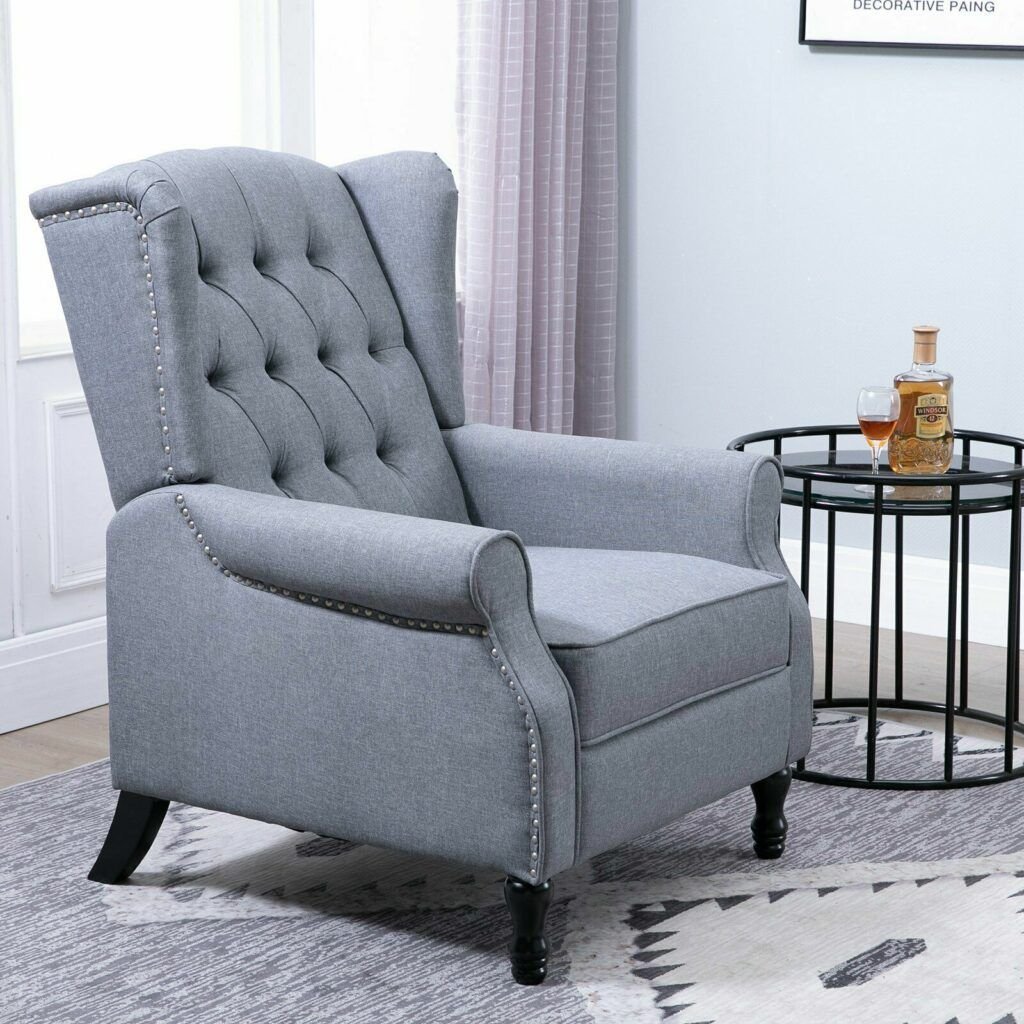 Vintage Retractable Sofa Chair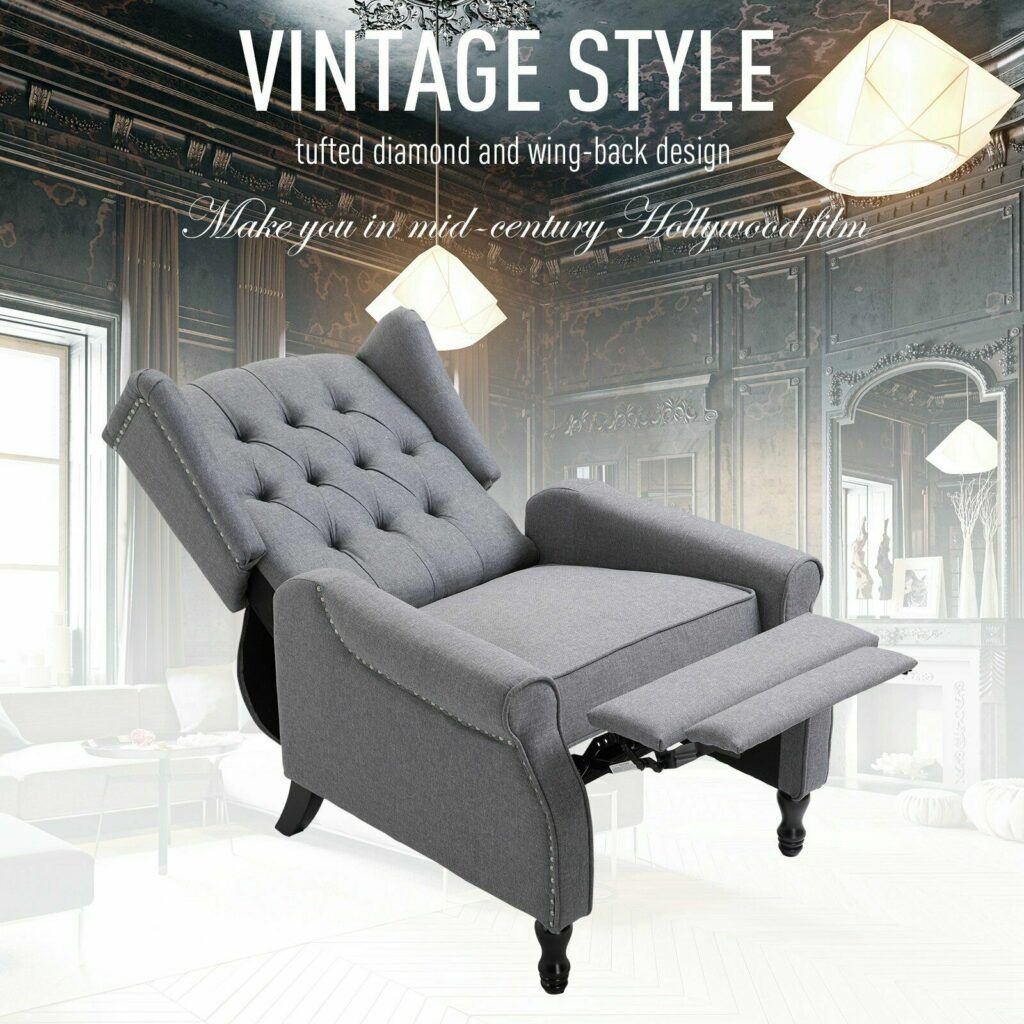 Take your relaxation to the next level with this reclining armchair. Tufted on the back for a vintage and traditional look, it is fitted with a thick sponge on the seat, which, when combined with the (manual) 110°/130°/160° reclining angle, will provide you hours of comfortable sitting and resting with adequate body and posture support.
---
The La Rosa collection by Jennifer Taylor Home is the perfect addition to any living space looking to add a bit of a modern flair. The fabric selected for the collection features a polyester blend engineered for long life. Our wood frames are made from kiln-dried birch wood which provides exceptional support and stability. This love seat is accented with hand tufts along with the seat and backrest, turned legs, and nailhead trims along the outer edges and arms. This tufted accent chair brings class and lounging comfort to any room in the home, whether it's used as additional seating for guests or extra space to spruce up your home decor. We offer a unique versatility in design and make use of a variety of trend-inspired color palettes and textures. Our products bring new life to the classic American home. Color: Burgundy. Cloud White, Lavender Purple, Navy Blue.