Why Using Accent Furniture?
The secret ingredient of how to make a home impressive is accent furniture. Accent furniture is like what its name indicates, to emphasize, to accentuate. It is eye-catching and draws viewers' attention. The impression of a house would certainly be consolidated practically at the initial view by the accent furniture because it stands out against surroundings and complements home décor.
Accent furniture exceeds its performance and has fantastic ornamental and visual worth. It sets a stage for us to show our concepts and character, which is instilled into the house atmosphere. Accent furniture has unlimited options. Either spend lavishly in designers' workshops or explore the vintage store, even emerge your very own DIY, there's constantly an item appearing of your inspirations, and brand your house with its uniqueness.
How to Use Accent Furniture
Placing the accent furniture could perk up the house environment and bring delight to your eyes. It can be either agreeable or different with your interior style and color scheme.
Decorative Role VS. Practical Role
As we know, accent furniture goes beyond mere functionality. It still can serve a purpose other than décor. Increasingly more products are revealing nowadays accent furniture is merging utilitarian need into aesthetic satisfaction. Whatever you opt for, the main purpose of accent furniture is to add vibrancy, color, drama, and definition to the home.
Small VS. Big
As chairs and end tables are frequently used as accent furniture, people normally believe accent furniture ought to be little. Everything depends on the scale of various other furniture around. If a huge sectional is the centrepiece of your living room, selecting a bigger accent chair may be right. Otherwise, the smaller-sized accent chair will be devoured totally by the large sectional. For that reason, the role of accent furniture is balanced out by the disproportion.
Start with Your Entryway
It is rather welcoming to put accent furniture in the entrance. It sets the tone for a home's ambience. An accent chest with wooden carvings trimmed with metal inlay could create an attractive area and show the house owner's personality.
Picking Up the Right Color
There's no set guideline when using colors in accent furniture. Accent furniture has a high value in aesthetics. A standing-out feature in either shape, texture, or color would be consolidated through its appearance. An imposing and contrasting piece of a chair would well sit in the neutral background, and vice versa; a plain color coffee table still creates a cozy nook wrapped by a sofa in a bold shade. Visual contrast is the raison d'etre for accent furniture.
Echoing with Room Decor
Visual pleasure is coming out of various elements well balanced in an area. As part of the integral visual effect, accent furniture bears an emblem of its own and reflects inspiration from the rest of a room. Echoing with decorative room items, such as artwork, would certainly create dynamic but harmonic vibes.
Don't Miss Out These Accent Furniture
Long Inlaid Entryway Console Table With Myrtle Burl Accents

---
A conversation piece chair
---
Velvet Dining Chair
---
MODWAY Inspire Pink Channel Tufted Performance Velvet Armchair
---
Vintage Wooden Accent Table with Book CD Rack
---
Solid Mango Wood Finish SideBoard Buffet Table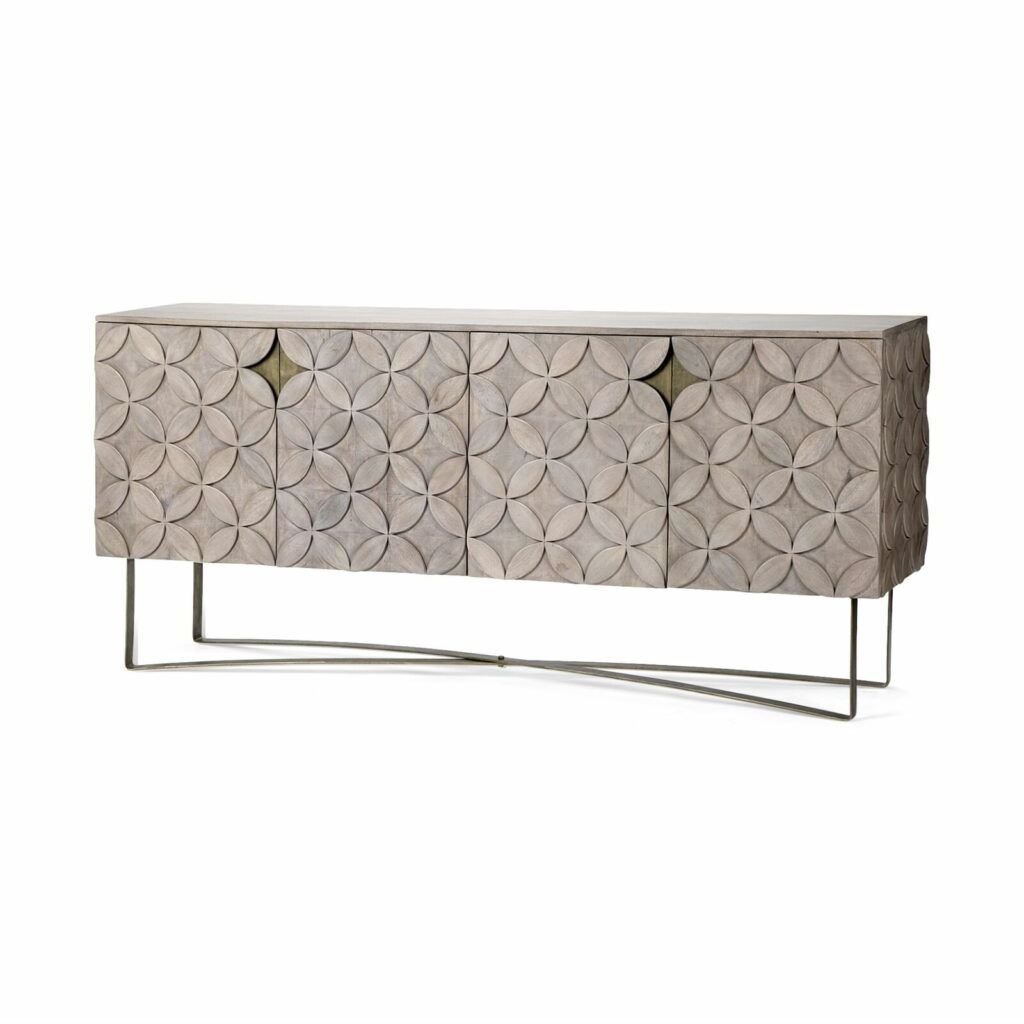 This beautifully styled wooden sideboard features four cabinets with intricately designed door fronts. They are meticulously crafted from solid Indian mango wood. The sturdy construction is complemented by an amazing natural brown polish that highlights the grain knots and character of the wood used, making this sideboard a sensation in your space.
---
Two Tier Entryway Console Hall Table
---
Vintage Industrial Loft Wood Round Coffee Table
---
Upholstered Patch Work Armchair And Footstool