The tree may be up, the Christmas lights hung, and the halls decked, but no home is complete without the perfect signature scent. The Christmas scented candles, from the delicious aromas of freshly made cookies to fresh pine trees and sugar plums, evoke the spirit of the season. It's a well-known truth that scent is one of our most powerful memory triggers. Whether it's the aroma of roast cooking that transports you back to your childhood Sunday family dinners or the crisp pine notes of a well-adorned December tree, fragrance has the power to transport you to another time and place. That's why having a unique perfume for special events is crucial.
The holidays offer an opportunity to rest and unwind after a hectic year, as well as a time for family, food, and kindness. Christmas scents are one way to get into the spirit of the season. Here are the 12 best Christmas scented candles to make your house smell even merrier and make it a Christmas to remember.
Jo Loves Christmas Trees Scented Candle
Nothing compares to the aroma of a genuine pine tree wafting through the air around Christmas. It immediately inspires a sense of familiarity and anticipation, and it sets the tone for memorable times spent with family and friends. The Christmas Trees Home Candle has a warm and fresh pine smell that will fill any space. Fresh Pine, fragrant Lavender, Incense, and Amber blend nicely to produce a very warm and comfortable smell. Hand-poured in England, this artisan scented candle is presented in a magnificent gift box. The hand-blown glass that houses the candle is complimented by a silver and glass cover that keeps the wax dust-free. Each Home Candle will burn for around 37.5 hours. The best part is it's Cruelty-free and vegan.
---
Jo Malone London White Moss & Snowdrop Scented Candle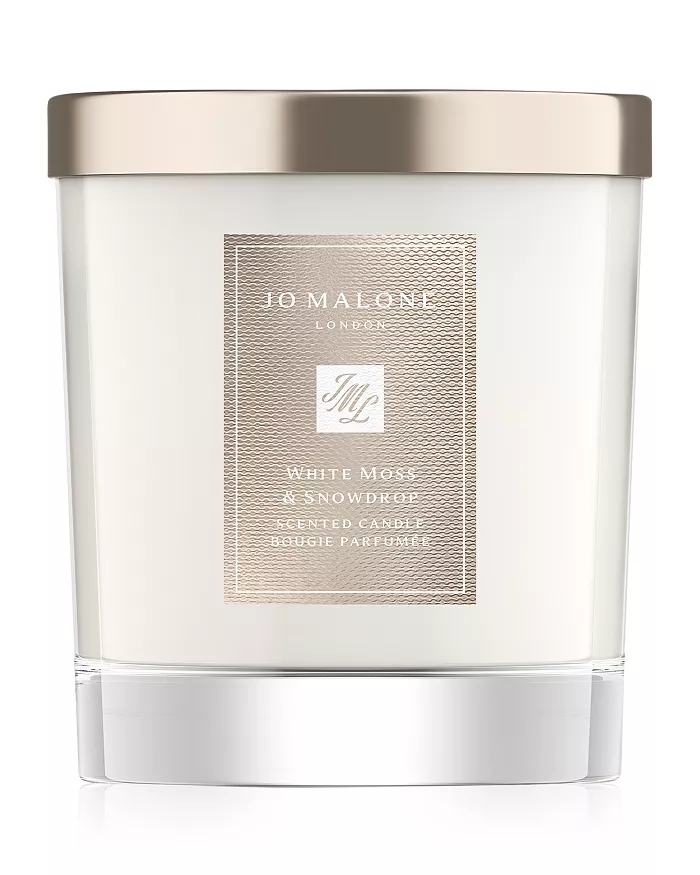 Allow the Jo Malone White Moss and Snowdrop perfume to anchor you in the middle of all the glitz and glam of the holiday season. Winter enchantment is encapsulated in a candle. Golden amber and bright cardamom warmed forest-fresh moss and exquisite snowdrop petals. For a glittering ambiance, a smooth and iridescent smell is used. It's made of festive glass and has a star-etched lid, and it's made in the British countryside. It has a woody, somewhat warm, and earthy aroma. When you go through the woods, you experience a warm earthiness. The aroma of the land and the trees. Each candle will burn for approximately 45 hours.
---
Cassia Clove Large Tin Candle
If you've ever visited a European Christmas market, you'll know the fragrance of mulled wine. During the holiday season, European streets are filled with the scents of leather, cedar, vanilla, and clove, along with overtones of citrus, apple, and cinnamon. Illume makes handcrafted, clean-burning candles. Each candle is a piece of art, with beautiful containers that add refinement to your house and smells that create a sophisticated ambiance. Cassia Clove tin candles are one of them. With a stylish wrap label on a gold tin and the smell of Cassia Clove, it is ideal for adding ambiance with farmhouse elegance to any place in your home. Aromatic cassia leaf and warm spices mix with creamy vanilla and brilliant copper woods, reflecting the season's basic comforts. This bold statement candle will leave you wanting more every time you have to blow it out, even though it is a little tangier than the cinnamon and vanilla Christmas fragrances Americans are used to.
---
Space NK Shimmering Spice Candle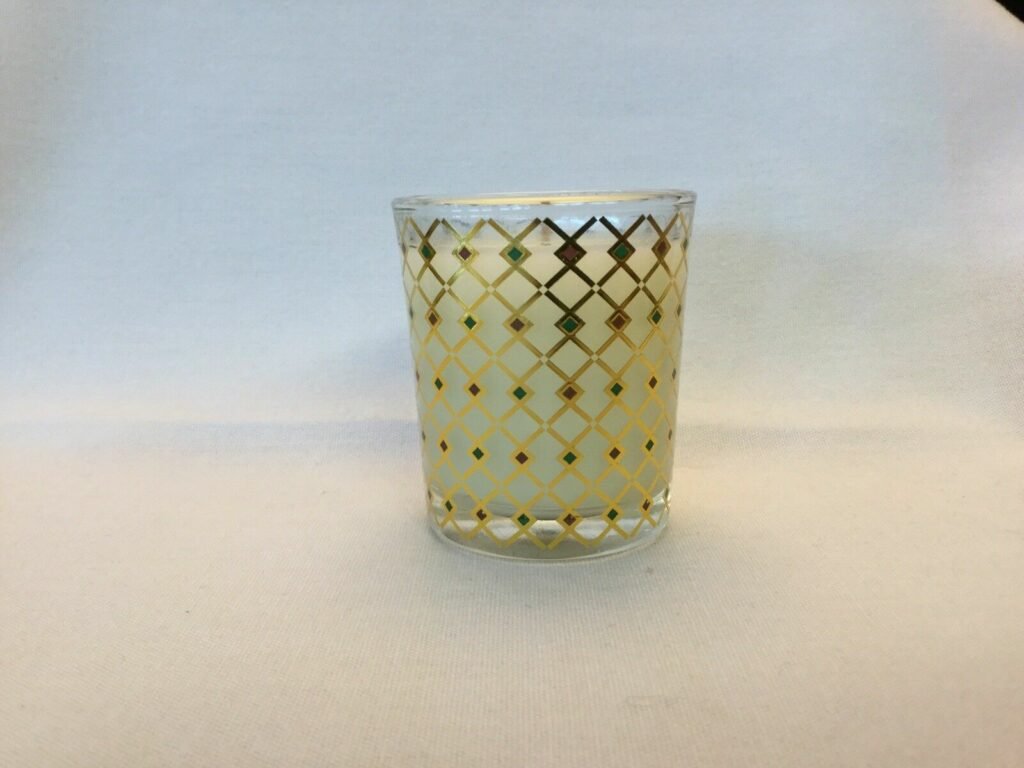 Nothing truly shouts Christmas like the limited-edition Shimmering Spice candle. The arrival of Space NK's annual Shimmering Spice candle heralds the start of the holiday season for many people. Thanks to high demand, this ancient mix of sweet, warming spices never fails to provide delight. Its luxurious golden appearance makes it a must-have for any fireplace or table centerpiece this year. Its distinctive, comfortable cinnamon, cedar, and all spices aroma have developed a cult following over the years. It starts with a wonderful combination of fiery cinnamon and zesty citrus, then softens into a rich, creamy cedar and vanilla base. If you're having difficulties getting into the Christmas mood, light this lovely candle,, and you'll be almost there!
---
Diptyque Sapin Candle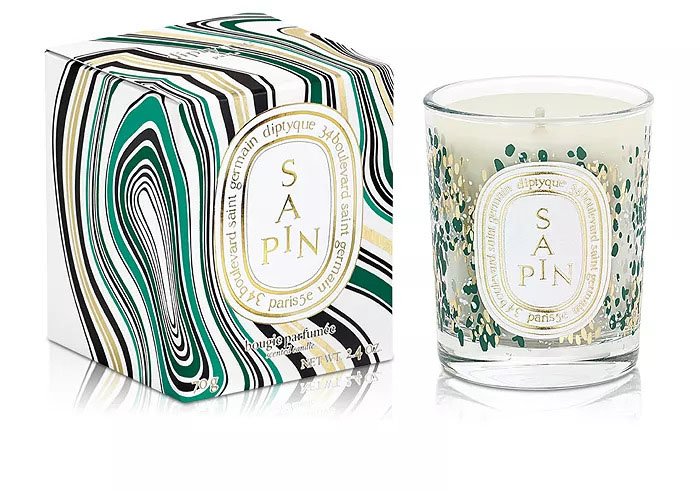 Diptyque opens the doors to its collection of wonders for the holiday season. It is a wonderful and enchanted area full of fragrant and colorful treasures that pique one's interest and delight with their finery and intricacy. An excellent location for finding the perfect Christmas present. The assurance that all of your wishes will be granted. For brightening the holidays, this candle is a jewel. This candle is capped with a beautiful golden lid to protect its wax, which is sprinkled with genuine gold and in a deep green that resembles the color of malachite. The Pine Tree perfume combines the fresh, fragrant scent of mountain pines and the rich, somewhat smokey scent of an open fire. Diptyque for a reinterpretation of a classic winter perfume is always an option to celebrate the end of the year.
---
Maison Francis Kurkdjian Mon Beau 1, 2, 3 Noël ! Scented Candles Trio
There's a scent for everyone, and they're wonderful for the holidays. Imagine enjoying a winter stroll through a snowy forest with the renowned Mon beau Sapin fragrance candle, which has been reimagined in new and festive garb. Its gorgeous lacquered design reflects the holiday charm, and its woody, somewhat resinous scent resembles the typical Christmas tree. A lovely gingerbread house stands at the edge of the woodland, offering sweet sweets and childhood joys. Discover the new Pain d'épices scented candle, with notes of orange, honey, cinnamon, and anise, which urges you to enjoy without restraint. Finally, take in the lively ambiance of a funfair while savoring a luscious, caramel-coated sweet apple. With the Pomme d'amour scented candle, another new product by Maison Francis Kurkdjian, you may enjoy this familiar fragrance.
---
Diptyque Limited Edition Feu de Bois & Ambre Carousel Set
If you know someone who likes the idea of candles but doesn't know where to begin, this is the present for them. This collection contains 35g versions of the Baies, Roses, Figuier, Feu de Bois, and Mimosa candles, which span a spectrum of floral, woody, and fruity smells to assist them in figuring out which notes they enjoy and where they should purchase candles in the future. The tangy freshness of blackcurrants was mixed with the floral nuances of rose in Baies (Berries). Roses, the bright, fragrant tones of May roses in bloom. Figuier (Fig Tree), with its woody and sweet overtones, is a wonderful fig tree smell. Mimosa, the velvety, gently honeyed notes of these little, fluffy blooms scenting the air. The rich, smokey fragrance of logs crackling on the hearth, Feu de Bois (Wood Fire).
---
Pomegranate Medium Botanical Candle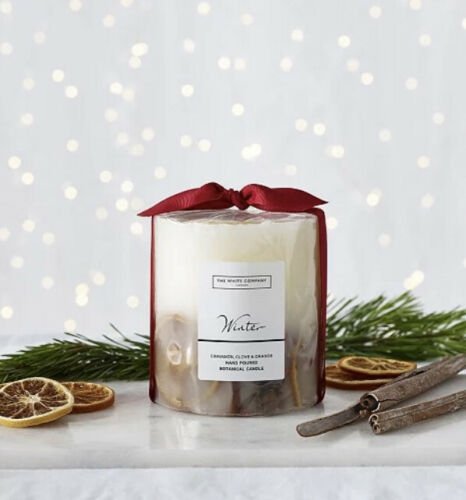 This luxuriously rich and wonderfully warming notes of fragrant pomegranate and brilliant mandarin, mixed with relaxing patchouli and amber accords, effortlessly shift the atmosphere like the power of fresh romance. Fruity, energizing, and classic. This captivating tropical scent combines juicy, passionate pomegranate with deep clove and cedarwood. This fragrance candle is joyful, bright, and gently sweet, with undertones of patchouli and raspberry. An infusion of berries and maple leaves enhances the beauty of this medium botanical candle, making it appear just as lovely as it smells. On the eve of Christmas, we think this would make a simple yet dramatic centerpiece for your table.
---
Nest Fragrances Festive Votive Trio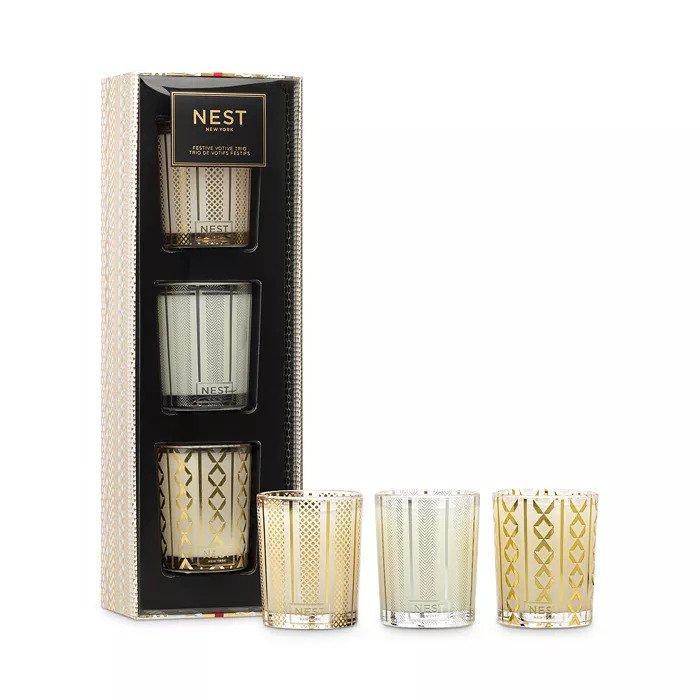 Birchwood Pine Votive Candle: White pine, fir balsam, and birchwood are blended over a background of rich musk and amber to produce the perfume of a majestic winter forest.
Holiday Votive Candle: Pomegranate, mandarin orange, pine, cloves, and cinnamon are blended with a dash of vanilla and amber to create the classic smell of the Christmas season.
Spiced Orange & Clove Votive Candle: For a classic scent with a twist, blend the smell of orange pomander and spiced brandy with Saigon cinnamon, traces of star anise, and gingered honey.
The perfume of these candles will fill every room of your house with enticing aromas and can make a significant impact.
---
Bernardaud
This tumbler comes with one of master perfumer Olivia Giacobetti's six home fragrances: Rue des Archives (mahogany, smoked ebony, blond tobacco, and sweet amber), Rose Pure, Porcelaine (white clay, iris powder, and rose essence), Lys Sacré, Immortelle, and Amande Angélique. Here are some suggestions for extending the life of your Bernardaud candle safely:
Allow at least one hour for the first usage of your candle to burn until the entire top is liquid with wax, then 2 or 3 hours for subsequent uses.
Trim the wick on a regular basis to let it burn more slowly and avoid ugly black smoke lines around the porcelain's edge. Re-center and straighten the wick after blowing out your candle.
---
Neom Christmas Wish Candle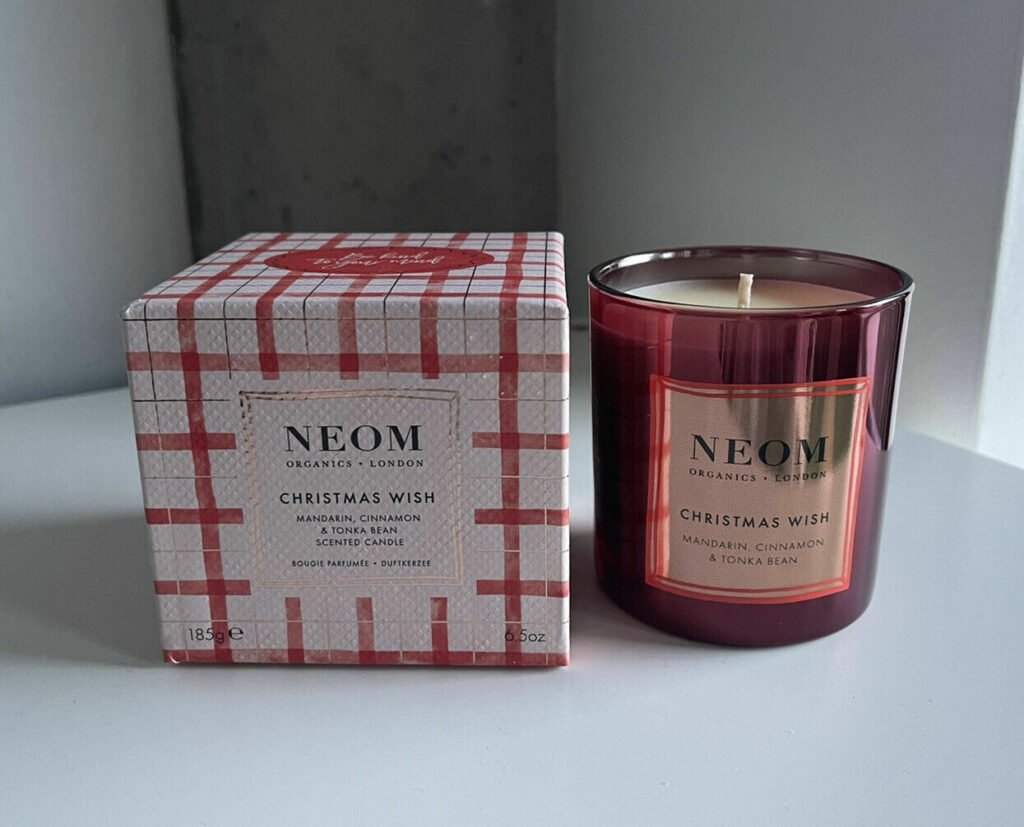 Do you have a perfume that immediately conjures up images of Christmas? This candle, the Christmas Wish Scented Candle, is precisely that. Christmas Wish, a limited-edition relaxing and classic natural scent, will fill your house. The NEOM Christmas Wish Scented Candle has a lot of layers to it. It smells sweet and spicy, but the tonka adds a creamy note that makes it smell like a joyful hot beverage. Fruity mandarin, spicy cinnamon, and soothing tonka bean, as well as ten additional essential oils, are expertly blended to help you relax and unwind. During the hectic holiday season, create a welcoming and relaxing atmosphere in your house.
---
Sophie James Mayfair the Christmas Stocking Candle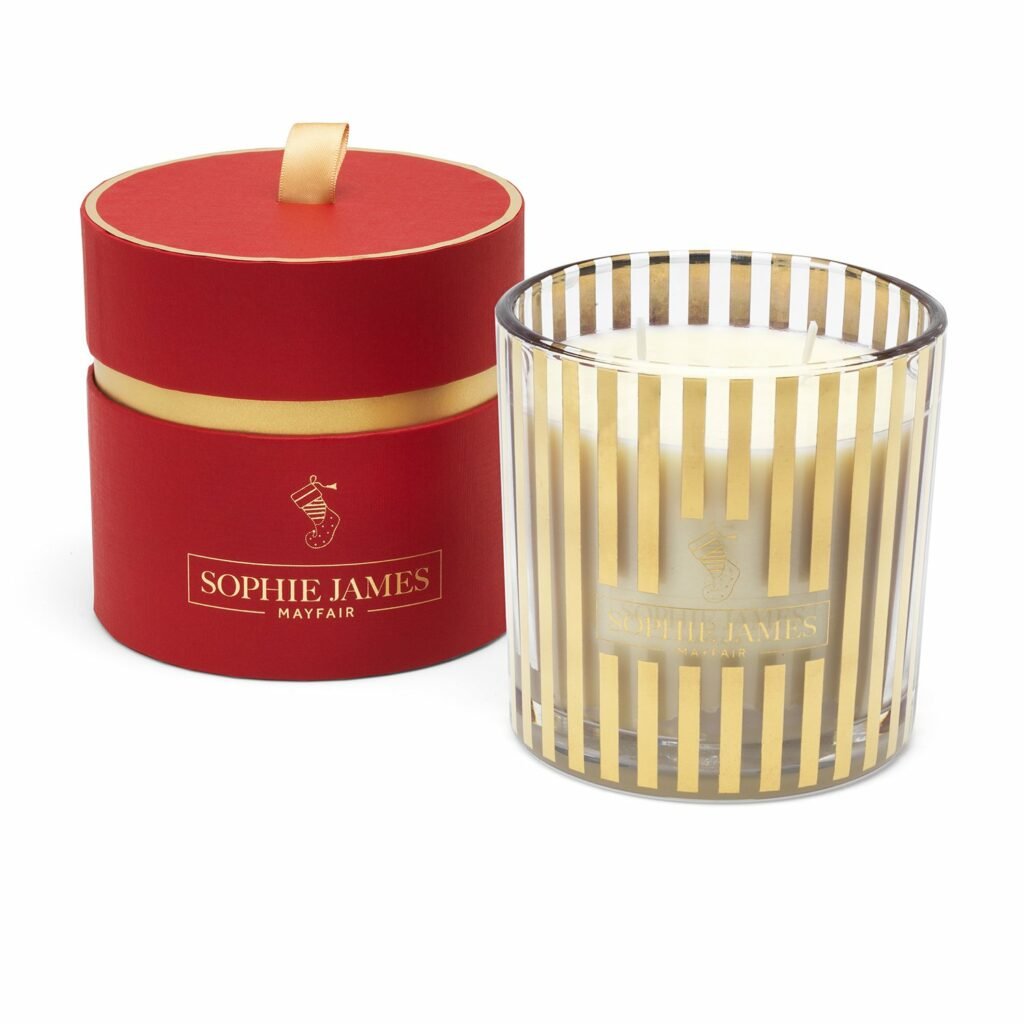 Citrus orange and lemon start this fragrant,, spicy harmony, followed by rich, warm cinnamon and clove with traces of flowery jasmine and a background of woods and musk. This stocking candle is based on a traditional Christmas story about a poor guy who had three daughters and couldn't afford dowry money for their weddings. When St. Nicholas learned of the man's hardships, he sent three gold sacks down his chimney. The money dropped in the stockings of each of the females, who were drying them by the fire. Isn't it interesting? The ultimate stocking with a story. The perfect present to give your friends and family this year is a Christmas candle. The brand new Christmas Stocking candles provide you and your loved ones the opportunity to try out and enjoy the best-selling seasonal aroma in different sizes.
Winter is here, and you already know what that brings… (drum rolls) No, it's not simply minced pies, but we do eat a lot of those as well. It's time to light your Christmas candles, you all. We may not live in Winterfell, but that doesn't mean we don't want to spend Christmas (and much of the new year, if we're being honest) by candlelight. We know how much everyone enjoys a good holiday candle, so we've smelled our way through dozens of jars of wax in the spirit of holiday cheer. We promise these will be on your wishlist. These are the greatest Christmas candles available this year. Just try not to burn them all at once while you've got your hands on them.
Merry Christmas!