When you think of home, what's the first thing that comes to mind? For many people, a sense of comfort and familiarity is the first feeling. What about your floor mat? Is it comforting and familiar to you? Does it feel like a part of your home, or does it just come from somewhere else in the house every time you walk on it? Well, if this is something that bothers you, then we have some good news for you! In today's post, we will discuss how to customize your perfect floor mat so that it looks just as inviting as your other furniture pieces!
A floor mat is necessary for any home, but it doesn't have to be plain and generic. You can customize a perfect floor mat for your home to reflect your unique personality. There are many different options available to choose from, so you can find the perfect one for your needs. Whether you want something soft and plush or stylish, there's a floor mat out there that's perfect for you. So start browsing today and find the perfect addition to your home!
Before we start, let us first distinguish the difference between carpet, rug, and mat?
Why Floor Mats?
We often forget why we have floor mats since they have become such an integral part of our daily lives; Floor mats enhance the appearance of a building while also keeping dirt and wetness out when visitors enter. Some focus on design while others on functionality. However, you can have both. They serve an important role for most house spaces and give benefits beyond some fundamental duties.
Keep Your Space Clean: They keep your spaces tidy up. There is a lot of foot activity in your homes, which means there are a lot of possibilities for dirt and liquids to enter from the outside. Floor mats effectively combat this by preventing up to 80% of outside soils from entering your premises.
Keep You Safe: They protect you. They act as a first line of defence against dirt and moisture entering your structure. Entrance mat do more than simply keep dirt out; they also lower the risk of accidents by making damp areas and slick surfaces less slippery.
Promote a Positive Image: They promote a positive and healthy image of your home. Preventing outside dirt from entering your building keeps the rest of the building cleaner, and mats decrease wear and tear in high-traffic areas, extending the life of your flooring.
Add Personality To Your Space: Mat adds colour, warmth, personality and texture to every room. It's a speedy and effective upgrade: the transformation happens right away, so you get instantaneous joy.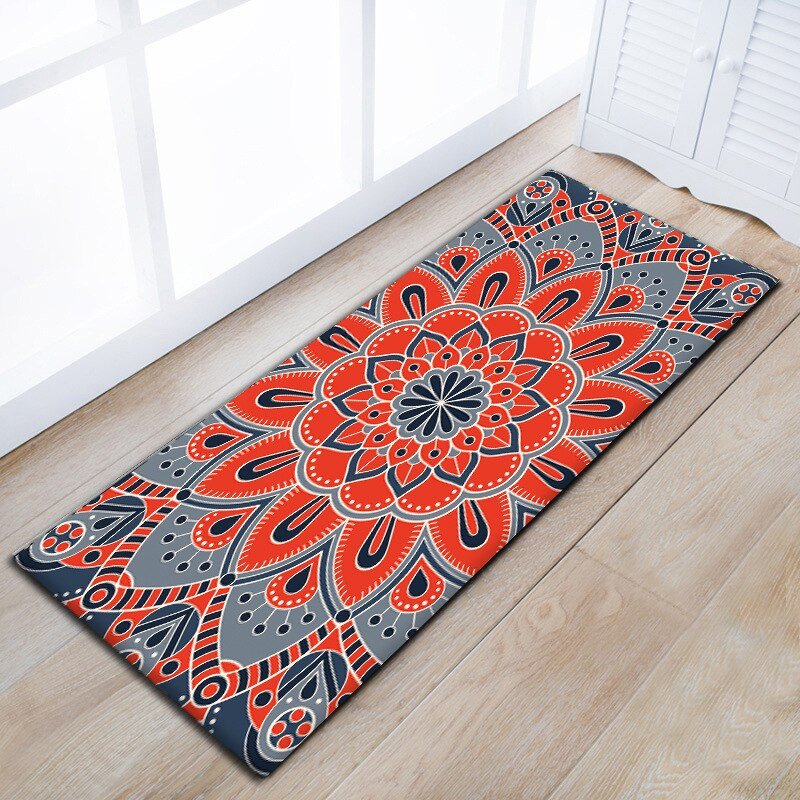 Difference Between Mat, Carpet, and Rug
Most people use mats, carpets, and rugs similarly without knowing their actual difference. People are often unclear about their real identity. That's why we are going to explain their differences here:
Carpet: It is often big enough to cover the whole floor. The phrase "wall to wall carpeting" may describe a room or a home. A carpet is also often trimmed to the precise size and shape of the space before being put and secured to the floor. It normally stays where you put it until you wish to toss it away and replace it with a new carpet. A carpet mostly lacks a pattern and is just one color.
Rugs: It is generally smaller than a carpet and covers a portion of the floor. Because it is not anchored to the floor, you may move it about a room or even across rooms. Rugs are usually rectangular and feature a pattern. However, others are circular or oval.
Mats: It is generally even smaller than a rug, a bit thicker, and is frequently put in front of a door or in a location where a person stands frequently and needs additional padding for their feet. Mats come in various shapes and sizes to suit a variety of needs.
A doormat is one that are placed on doors to sweep dirt rom outside. A mat will have a particular bottom layer that helps it remain in place, and it will be simple to clean, either with a hose or in a commercial washing machine.
An exercise mat is thicker and foamier, used to exercise or stretch while lying down.
A place mat is placed behind the plate, cutlery, and cup on a table.
Commercial mats are meant to make a business safer by reducing slip, trip, and fall incidents, and these mats are extremely durable and built to withstand heavy use.
Now you know the actual difference between all three of them.
Tip: For decorative accent, place the mat or rug (whichever you prefer) on top of the carpet.
How to Choose the Perfect Floor Mat for Your Home?
There are several materials and styles to choose from for floor mats. It might be challenging to choose the perfect floor mats. A variety of factors will determine the best option for you:
Type of Flooring
The type of flooring in your home is the first thing to think about. Is the flooring made of carpet, tile, or hardwood? If you have a lot of rugs and carpets in different areas, it's likely that carpet is your primary flooring material. The tile floors are the first choice in kitchens and bathrooms and are easy to maintain. Finally, hardwood flooring is popular in houses but is more expensive than other options.
It's important to know how much money you have accessible before purchasing a new pair of floor mats for your home. Floor mats come in many materials, including wood, rubber, and plastic, necessary for every home. The price will differ based on the type of material used and the mat's size. The small ones are of less cost than the extra-large ones.
When shopping for a new rug or floor mat, it's essential to consider the frequency of the traffic. Is this a busy location during the day, with kids and pets jumping over toys and furniture? If this is the case, look for a mat that will withstand food or pet accidents stains.
We've all experienced the difficulty of cleaning up spills and dirt from our flooring. It is why so many individuals choose easy-to-clean floor mats in their homes. Floor mats are available in a wide range of materials, colors, forms, and sizes, allowing you to pick the one that best suits your needs.
Commercial or Home Setting
Do you require a floor mat for your residence or place of business? It would help if you thought about the purpose of using the mat. Commercial mats are typically constructed of rubber and are designed to endure high usage. Anti-slip properties are also included in these mats to avoid accidents and injuries in the event of a fall. Carpet mats are more comfortable at home, yet they still need a grip on slippery surfaces like hardwood, tile, or linoleum floors.
The most considered mats for Home
Entrance mat (Door Mat) : It is placed in front of the entrance to greet visitors and provide a place to clean one's feet. Dirt, trash, and water, as well as snow and ice, are trapped by entrance mats, preventing them from being tracked throughout your space.
Kitenchmat: You may give your kitchen a new outlook on life by investing in a kitchen mat. These are made of a durable, washable material that can withstand the footfall and unexpected spills. Kitchen mats are also be used to preserve your hardwood floor or to add interest to plain old tiles.
Chairmat: Moving around your workstation is simpler with the correct chair mat, and you can extend the life of your flooring—a big money saver. Because rolling office chairs harm flooring surfaces without mats, these chair mats guard against damages, spills and other blemishes. Chair mats also make it much easier to move around your workspace—rolling your chair on a mat requires 80% less effort than on carpet.
Children playroom: It might be challenging to locate the correct mats for your children playroom. A play mat is one of the most essential items for your child. It gives them a sense of security and comfort as they begin to explore their surroundings.
Customize Your Floor Mat with Fussmattenwelt
Do you want something custom? We've got your back. You can "Design It Yourself" with Fussmattenwelt.
Yes, you read that correctly. Every available customized option is at your service to maximize your and your home's potential.
You can select from Fussmattenwelt's online shop, with vast designs across many interesting themes, or you opt for "Design it Yourself" by uploading your work art. The Fussmattenwelt will use advanced technology and the best material to produce your personalized floor mat.
Get custom-made floor mats with your name and logo printed on them to get more impressions for your business, or use personalized images to give your home a unique twist. It is full of fun and creatives! And the most exciting news is that Fussmattenwelt accepts one-piece orders

Let's design yours!
Here are a few of Fussmattenwelt's popular floor mats that you must like to have in your home:
Just Married Floor Mats
You will not only put a smile on your visitors' cheeks with this Just Married floor mat. This doormat is tear-resistant, wrinkle-free, and machine washable. It fits under practically any space since it is incredibly flat, with a total height of 7 mm. The doormat has been chemically tested and is acceptable for allergic patients also.
Animal-themed Floor Mat
This floor mat is all for animal lovers. Whether you are a dog lover, cat lover, or any other animal lover, you can customize the floor mat with your lovely friends' photos printed on it. These floor mats are made of high-quality polyester and include nonslip rubber backing, preventing moisture leaks while keeping the mat in place. It is a cherishable souvenir, gift, and unique promotion banner for any charity focusing on animal welfare.
Patchwork Floor Mat
This patchwork mat is elegantly decorated with a mosaic of floral tiles in a rainbow of hues. Depending on your size preference, a well-made floor mat is adaptable to any traditional or contemporary room and offers trouble-free cleaning. This elegant stain and fade-resistant mat may be placed under pet bowls, dinner plates, and by a door to meet a muddy dog or youngster in place of an area rug, which can trap germs and odors. Protect your flooring and other areas of your house where there is a lot of eating or foot/paw traffic.
Cities & Countries Floor Mats
These floor mats include beautiful pictures and sceneries from all over the world. You can have any mountain, river, ocean, or forest to decorate your home flooring. You can mix and match your floor mat with your home decoration. Just put your floor mat having your favorite place imprinted all over it.
You can print the photos from the last tour on the floor mat, which brings you a sentiment of nostalgia, or print the scenery you have been longing for quite some time, which reminds you of the overdue trip due to the Covid-19. Life is full of the unexpected, and we need to change the plan and adopt a new path, but never avert from our original thoughts.
Kitchen Floor Mat Runner
This set of mats, which has a graphic image of different colors and designs, is ideal for infusing life into a drab space. You'll bring warmth to your room as well as a fresh look to the floor by using a runner. A runner will guarantee that your area is as well-decorated as the rest of your house. The rug is also ideal for hiding scrapes and blemishes. Nonslip punch textured latex backing keeps the mats in place for secure, slip-free footing. You can use it for exercise and yoga without worrying about slipping.
Fussmattenwelt is a company that specializes in personalized floor mats. They offer customized floor mats to make cleaning easier with their anti-microbial properties, preventing the spread of bacteria, mold, and mildew. This mat will help you save time from having to vacuum your floors every day because it traps dirt and debris on its surface before they can get into your carpets! With a 20 year warranty on this product, there's no risk involved when investing in one today. ..