We seek methods to remain warm both inside and outside the home as the temperature decreases. We're hoping to figure out how to remain warm without losing our sense of style or home decor. Cushions and throw blankets can help you achieve the fashionable but inviting atmosphere you desire.
Before you go for the shopping cart, check out these tips to choose the right cushions and throw blankets for your sofa.
Pick accent colors around
Cushions and throw blankets have the value of practicality and aesthetics. They create both physical and visual comfort. Cushions add body support, blankets provide warmth, and each offers opportunities to layer colors and textures.
Pull the most minimal accent color around the room and build upon that as a thumb rule. It is not necessary to match the sofa color. Sometimes, bold colors contrasted with the sofa color may bring a visual appealing against the backdrops.
The photo below shows the mustard cushion picks up from the chandelier and the mirror frame. And the berry cushion picks up from the rug, and the dark grey cushion and throw blanket get inspiration from the wall art elements. Match accent with the accent; use a coordinate element to make the cushions look like a random mishmash.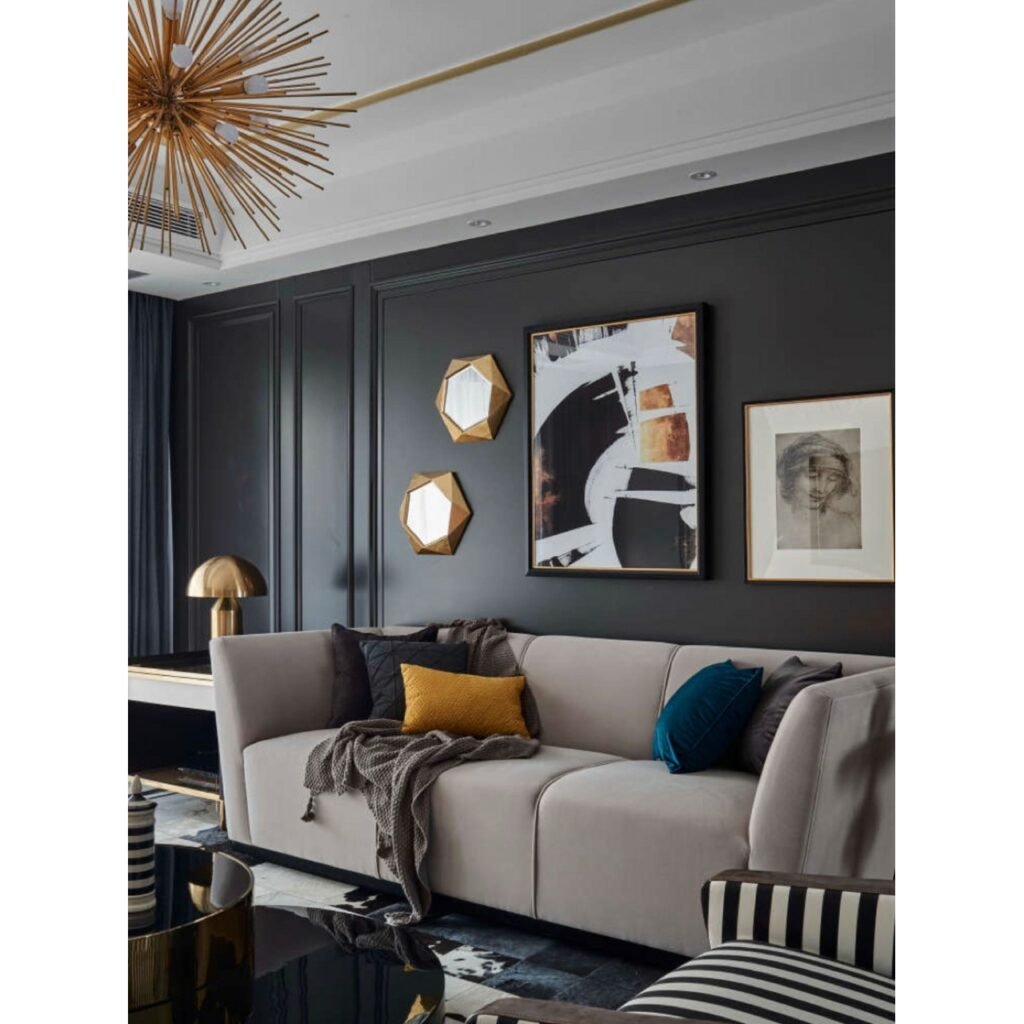 Create textures
Cushions and throw blankets could bring a dramatic change without cost much. Hanging with the season, they offer countless possibilities in color, size, and texture. You wouldn't even experiment with a bold pattern or fabric in the sofa, such as faux fur or indigo print, but it is safe to apply in your cushion and throw blankets and achieve a surprising effect.
Drap the throw blanket over the sofa could add visual interest and create a nice color separation if you toss multi-color cushions on the sofa.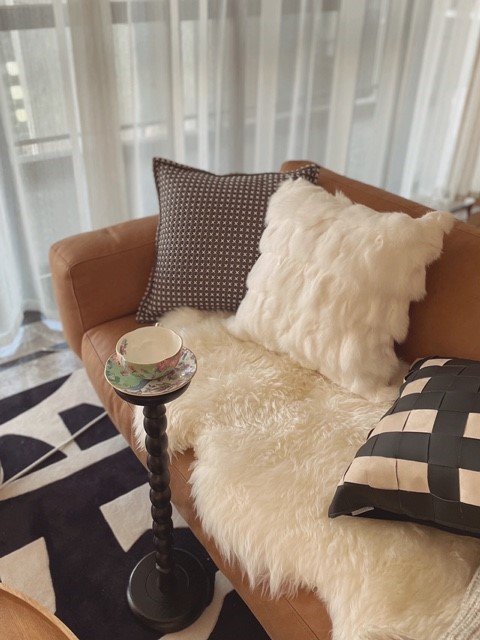 Engage with the materials
Besides trying different colors and sizes, you should engage with materials. Materials like silk, leather, and cotton will highlight the room. Furthermore, unique patterns from embroidery, sequins, quilted patchwork, and others can create a unique theme that you are craving.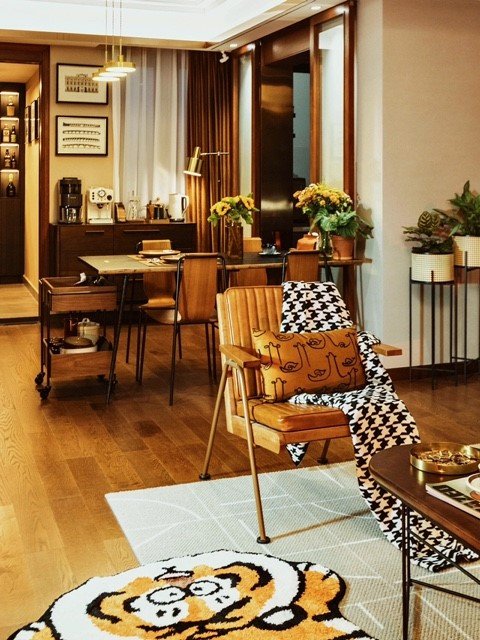 Choose the right cushion insert
Cushions and throw blankets are the moving elements in the room. Keeping styling the room by seasonally changing the cushion coverings is the trick to rejuvenize the ambiance without involving extensive renovation home with many costs.
In order to keep the cushion remain fluffy, clean, a good quality cushion insert is a must. Consider the filling materials whether it is in compliance with OEKO-TEX-certified or other institution's criteria. Whether the filling has followed the ethical yardstick such as RDS (Responsible Down Standard), or IDFL laboratory and Institute in the case of down filling.
Dunö Inner Cushion
The interior cushion of the Dunö is soft and stuffed with duck and goose feathers and down. And Living's OEKO-TEX-certified inside cushion is chemical-free, and the stuffing complies with EU animal welfare standards. O give your house a fresh look, mix and match the inner sofa cushion with different colored coverings. You can make your couch or bed appear more welcoming with attractive cushions. These come in various sizes so that you can find the right fit for your sofa cushion covers.
Our Favourite Cusions and Throw Blankets
During the fall and winter, there are many different throw blankets and pillows that may make a difference and provide a bit of warmth to your house.
Here's a list of some of our favorites from Nordicnest.
Pom Pom Cushion
The Swedish Designer By On's Pom Pom cushion is a dream come true for everyone who likes soft, cozy interiors. His lovely cushion is adorned with little, fluffy Pom Poms, allowing you to easily create a welcoming and cozy atmosphere on your corner couch, favorite recliner, or bedroom bed.
Polka wool throw
Enjoy this exclusive Polka throw from Klippans Yllefabrik, made of lamb's wool in a classic, grained pattern. Available in a range of colors such as pink, lilac, green, and many more. The Polka throw is splendid on a seasonal event. In winter, dark colors will give warmth to the room; while in summer and spring, lighter colors will bode the blossom time coming ahead.
Mist Cotton Blanket
Scandi Living's Mist cotton blanket is made of superior grade cotton, soft and comforting to the touch. This fringed throw blanket features a toned design that goes from light to dark with a subtle striped expression, thanks to a jacquard weave. On a crisp winter evening, wrap the warm blanket around yourself or use it as a soft and subtle feature on the sofa, bed, or balcony. The Mist blanket comes in a selection of subdued colors with a classic Scandinavian interior design style.
Calm Pillow Case Linen
Swedish Scandi Living's Calm pillowcase linen is made entirely of linen and has a beautiful edging. This square sofa cushion's soft texture and single-colored pattern make it a charming accent to a sofa or bed. The square pillowcase comes in various colors that may be mixed and matched for a more snug look.
Sandstone Wool Throw
Scandi Living's Sandstone is a fringed soft wool blank t. This fine wool throw feels silky to the touch and wraps nicely around the body for further comfort because of its thinner quality. And stone's distinctive pattern and lovely texture may be found in houses of various eras, thanks to a carefully devised weaving process. The warm blanket is ideal for cooler summer nights on the patio or for curling up on the sofa with a nice book and a cup of tea while the rain beats against the windows.
Shepherd Lina Sheep Skin Cushion
Lina sheepskin cushion by Shepherd is a must-have for the sofa. This lovely cushion is made of real Australian sheepskin n. The back is woven wool with a concealed zip to make washing easy because of the combination of silicon cushioning and actual duck feathers, the pillow is incredibly soft and fluffy. It looks well in most houses and instantly provides a welcoming ambiance. The rectangular size looks great on a couch or armchair.
Bloomingville Throw Recycled Cotton
Bloomingville is a gorgeous patterned plaid with ornate fringes down the edges made from recycled cotton. The design has a warm boho style that gives the space a dynamic and harmonious feel. Place the throw blanket over the kitchen chair or draped over the sofa's edge as a cozy accent.
Ferm Living 's Desert Cushion Series
The Desert cushion by Danish Ferm Living is created from PET yarn recycled. The cushions are constructed of a gently structured fabric with a defined edge. the extended design works well with other Ferm Living square pillows to create a dynamic effect.
Another masterpiece from the "Desert Cushion Series" is its shay quilt collection, which consists of beautiful cushions with quilted patchwork in various colors and patterns. The backside is monochromatic, allowing a splash of color to pop out against your big-size sofa. All material is made from 100% organic cotton.
Metric Focus No. 1 Cotton Throw
The Metric focus No. 1 cotton throw is a geometric and colorful focal piece for any room, regardless of style. The multi-colored blanket is made of soft recycled cotton and features a lovely geometric jacquard design. This weaving technique produces the same lovely design on the reverse of the throw, still, with inverted colors. The colors extend to the throw's fringe, bringing a new depth to this one-of-a-kind creation. The colors, geometric forms, and straight lines of the throw blanket are recurring elements across the NJRD collection, whose products emphasize the dural and functional design, and are well known for their recycled cotton-made throws.
Tidal Wool Throw
Swedish Scandi Living's Tidal wool throw blanket is composed of 100 percent wool. It features a striped design with a gorgeous fringe. Rap yourself in the striped blanket for a nice moment in front of the TV on the patio on a summer evening or a rustic autumn day. When not in use, this blanket may be hung over the couch arm as a wonderful ornamental accent that is always close to reaching when one feels chilly. Decorative sofa cushions and throw blankets provide a warm atmosphere and may also serve as a focal point in space to obtain a comfy yet stylish look, consider sizes, designs, and colors, and follow the same guidelines you used for other decors when determining what works best for you.
---
Stay Cozy and Warm!