What is Wall Decoration?
A wall decoration consists of dressing up the walls of your home using a variety of decorative elements.
This process, which starts with the choice of wallpaper and goes through the different objects, allows you to decorate the walls of your home. You can therefore add an aesthetic touch to your interior. You have the option of using decorative objects or making them yourself.
However, to achieve this, your choice should be based on the colour, materials to be used, the shape of the room, and objects to attach to the walls. With the right choices, you can decorate your living room, kitchen, and even bathroom with peace of mind.
Advantages of Wooden Wall Arts
To succeed in wall decoration, you must use materials that combine your personality and your various preferences to the maximum. And wood is one of the best elements you can use. It can be transformed into a trendy, modern, bohemian or industrial decoration. And it fits most of the interior styles.
Wood is a natural material and is one of the most after-sought products, particularly for the "Green Consumers." Wooden wall arts stand out in interior design can be attributed to their versatility and malleability. Any DIY lovers could turn their inspiration into a piece of wooden art easily. Here are some advantages of wooden wall arts:
Wood's physical property decides that is an excellent natural insulator of heat and electricity.
Wood is light and wooden wall arts are easily to be installed or attached on the wall.
Wood is an effective sound-absorber, which means it prevents echo and noise. This is particularly important in a spacial room. Wooden Panels always render an sound-proof effect as well as aesthetic value.
Wood's flexible nature gives itself a high value of aesthetics. Now matter it appears in the forms of carved, inlaid, or embossed , it just presents a perfect look with adroitly craftsmanship. It works well with other materials too.
Wood is a durable interior material. It is recyclable even after a long time of use.
Wooden Wall Art Ideas
In interior design, wooden wall art can either be an element of the entire scheme or an independent thematic style. Whatever you opt for, it spices up your wall with extraordinary effect. Here are the most popular wooden ideas :
Wooden Panels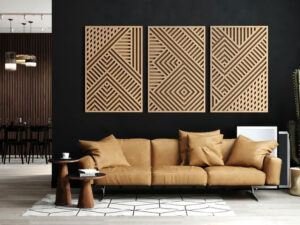 Adding a Wooden Panel could be one of the best home renovation projects but cost far less than an entire home make-over, particularly for the plain wall in a bigger space. It reclaims the area and builds an attractive focal point, bringing vision pleasure to the entire room. And above all, the wooden panel's natural tone matches almost any theme set up in the area.
A wooden clock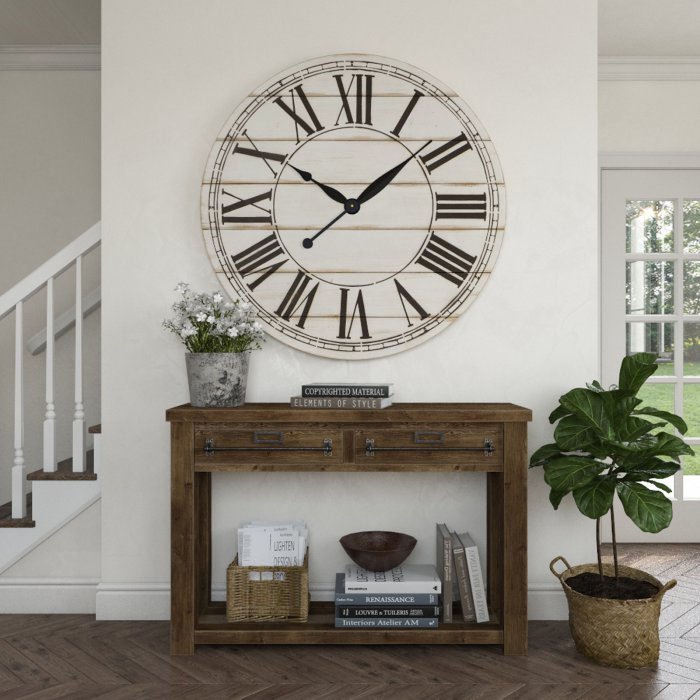 A wooden clock will give an elegant look to the decorated room, particularly those big size wooden clocks. This unique timepiece could set up different genres and bear the emblems of certain styles. Whatever the wooden clocks in Modern, rustic, minimalist, futuristic, and other styles, this piece of wall art combines functionality and aesthetic appeal
Wooden Animal Decoration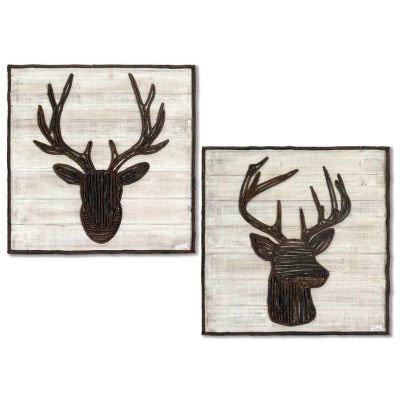 A wooden animal wall hanging invites nature into your home. The featured animal image is depicted on the wooden board, adding a rustic touch to the room. You could imprint your pet's silhouette against the wooden frame and brings a sensation of nostalgia of time passed by.
Wooden Wall Map
The wooden wall map looks sophisticated and classic. A Carved map enhances the dimensional look in the area. It is phenomenal both in the office or workplace at home. It is great fun to mark the places you've ever visited to bring the memory alive.
Wooden Ethnical Art Wall Hanging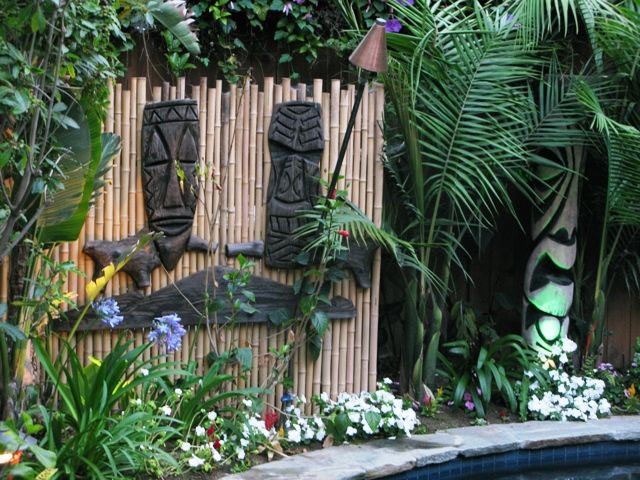 The Aboriginal art design is imbued with deep cultural and spiritual significance. Exaggeration and distortion reflected in this kind of ethnic art piece always enhance the visual impact and draw visitors' attention.
Wooden Wall Sculputure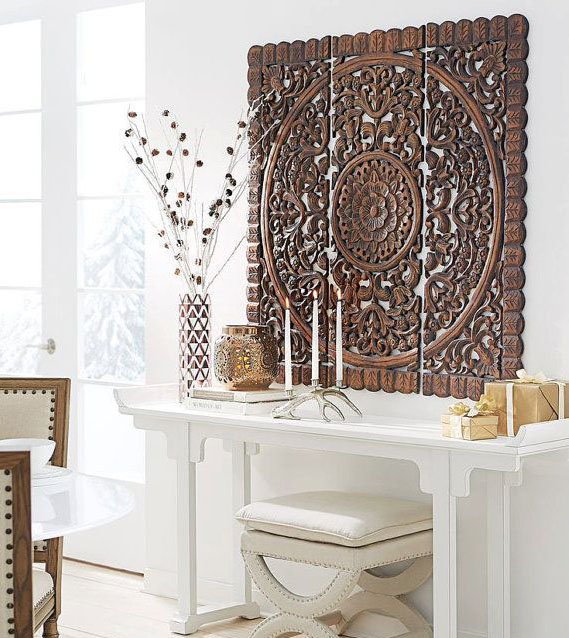 Sinuous wood sculpture integrates the rich natural beauty of wood with creativity. The textures in varying wood tones bring out the design's depth. Each hand-made wooden sculpture is exclusive and unique because of the wood grains _no replica, which gives such an art piece the collection's value.
Wooden Mosiac Wall Art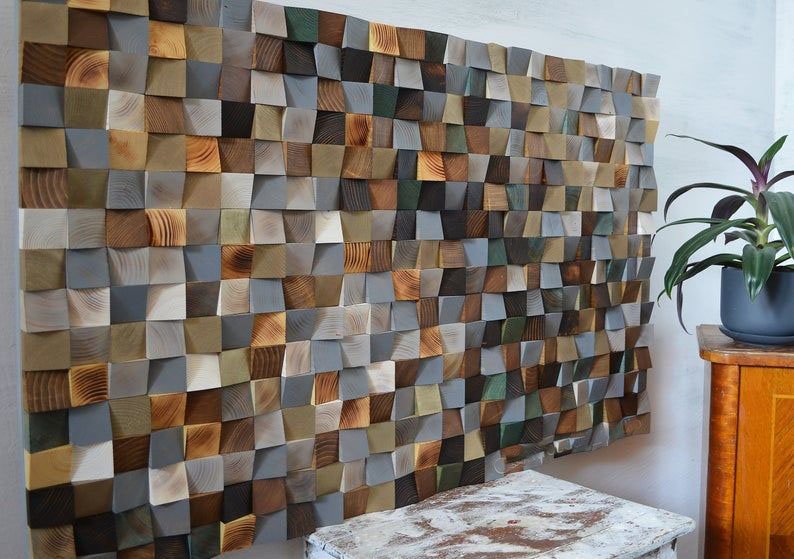 Contrary to the metal, woodblocks emanate warmth, calm, and relaxation. Every element of the wooden mosaic extends the visual dimension and creates an impressive interior for your home. Wood mosaic goes well with minimalism because it complements the monochrome undertones.
Wooden Mounted Shelf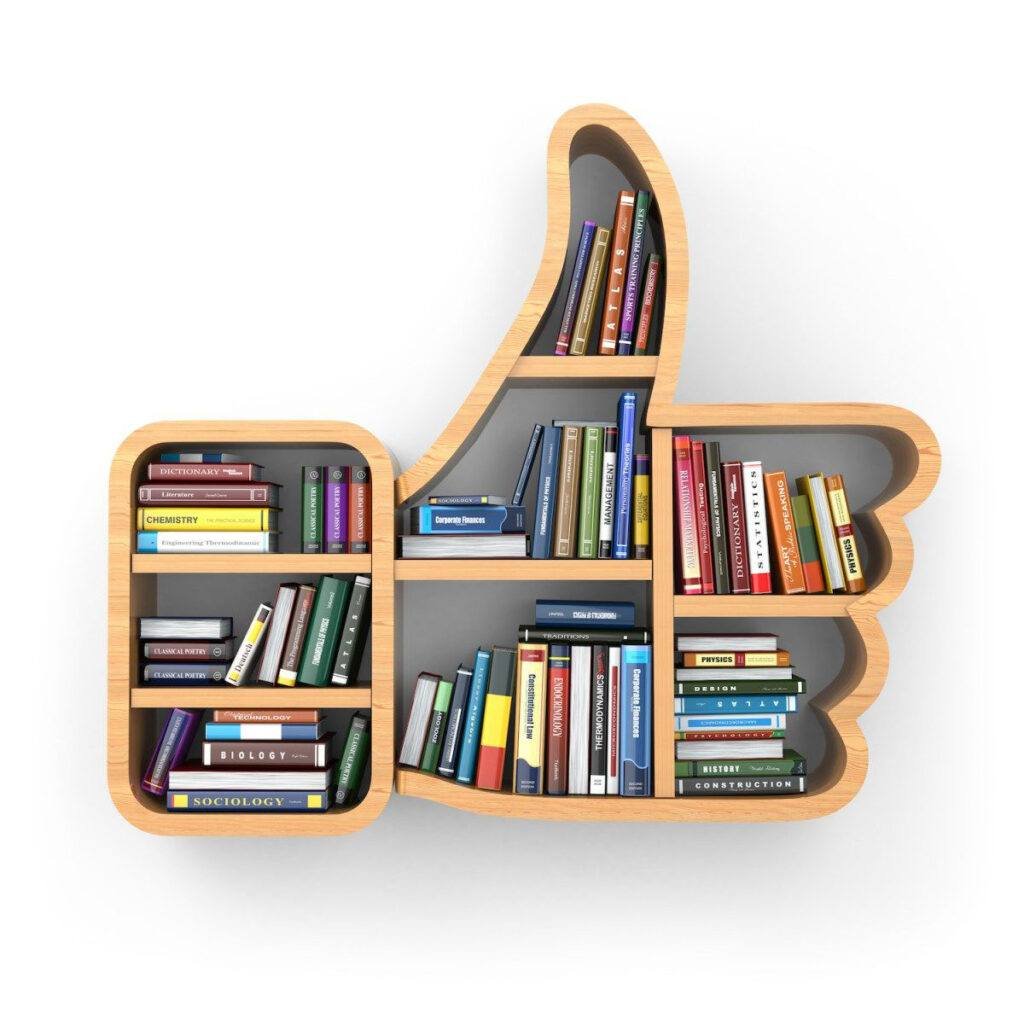 Nowadays, furniture is never created only for practicability. It embodies functionality and usability. A simple, eye-catching wooden mounted shelf could not only hold your storage but also be like a floating art adding flavor to your plain all.
Conclusion : Wood is the best material for your wall decorations
Wood conveys a natural feel. This timeless material blends with many styles, from modern to antique. It brings a soothing and especially relaxing atmosphere.
Moreover, in its color, natural wood will dress your walls in an elegant and modern way. Also, there are many varieties of wood with a wide range of colors. The endless choices endorse your decision both aesthetically and practically.
Among the most used styles, the Scandinavian remains the one in the lead for a wall ornament. It is characterized by furniture and objects without artifice or frills. It requires the use of natural materials such as wood and colors, including clear white. This color contributes to creating a bright and warm environment.
Check Out These Hand-made Wooden Wall Arts ☕