As is often the case in interior design, the wall art hanging in your living room is a question of balance: between your tastes and the trends of the moment and between sobriety and creative notes.
Dare to use color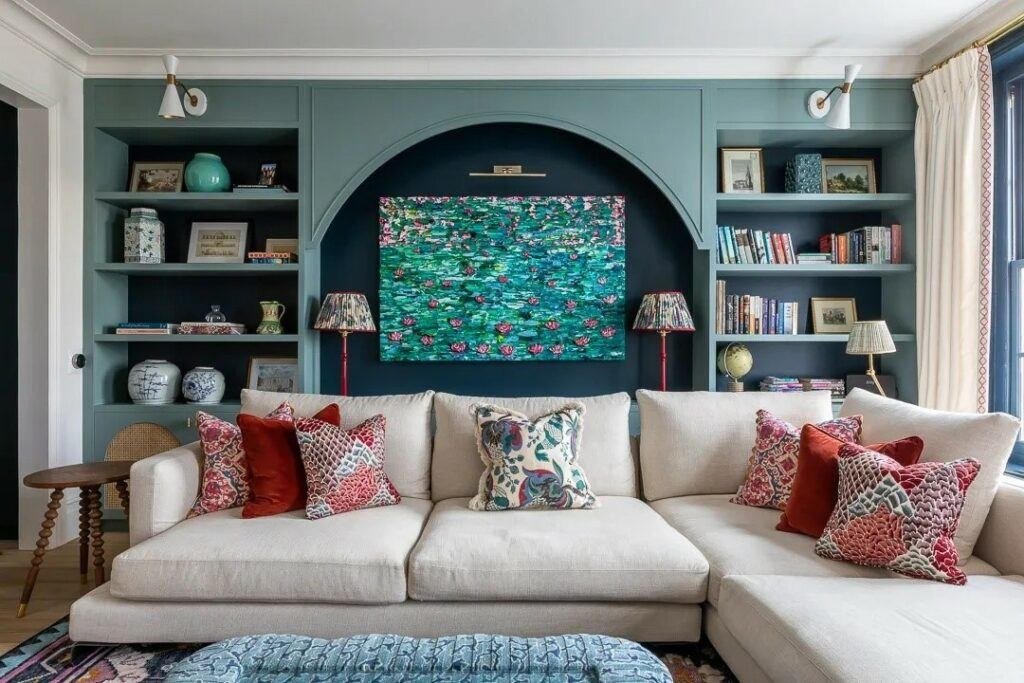 While we prefer to avoid too bold colors for the sofa and furniture, walls allow you to express your creativity. If you are completely redoing the wall decoration of your living room, you have several possibilities:
If your walls are plain, you can sprinkle them with various ornamental objects, limiting yourself to 3 dominant colors
If you have chosen a patterned wallpaper, the living room wall decorations should remain sober and sparing
For a compromise, opt for the trend of mismatched walls. More than a fashion statement, it's an easy way to give your living room a designer look. Simply dress a wall in a different shade or print
Frames, the timeless wall decoration for the living room
For a personalized living room wall decoration that is easy to change over time, think of frames. Contrary to popular belief, it is not necessary to choose the size of a decorative object according to the size of the living room.
XXL frames can easily give volume to a small room. Choose two or three perfectly identical ones for a nice effect. For small frames, vary the shapes, colors, and materials to give your interior a brocante chic atmosphere. For example, surround a round metal frame with many smaller wooden ones.
Personalize your frames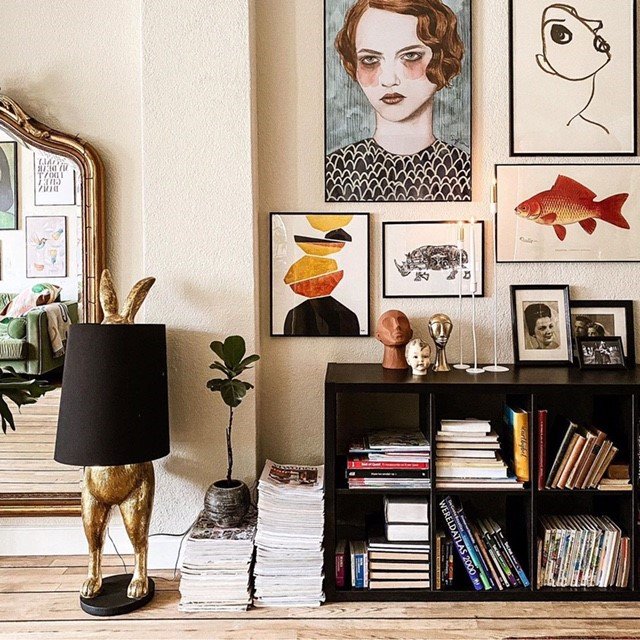 What to put in the frames? Art reproductions are a sure bet. Choose a pop art poster for a colorful interior, a realistic painting for a more sophisticated atmosphere, and a black and white photo for a romantic living room wall decoration.
For medium-sized frames, find vintage posters or cut-out advertisements from magazines. As for the small sizes, you can decorate them with patterned wallpaper to embellish a plain wall. A lighted candle placed in the right place will highlight them.
Trendy living room wall decorations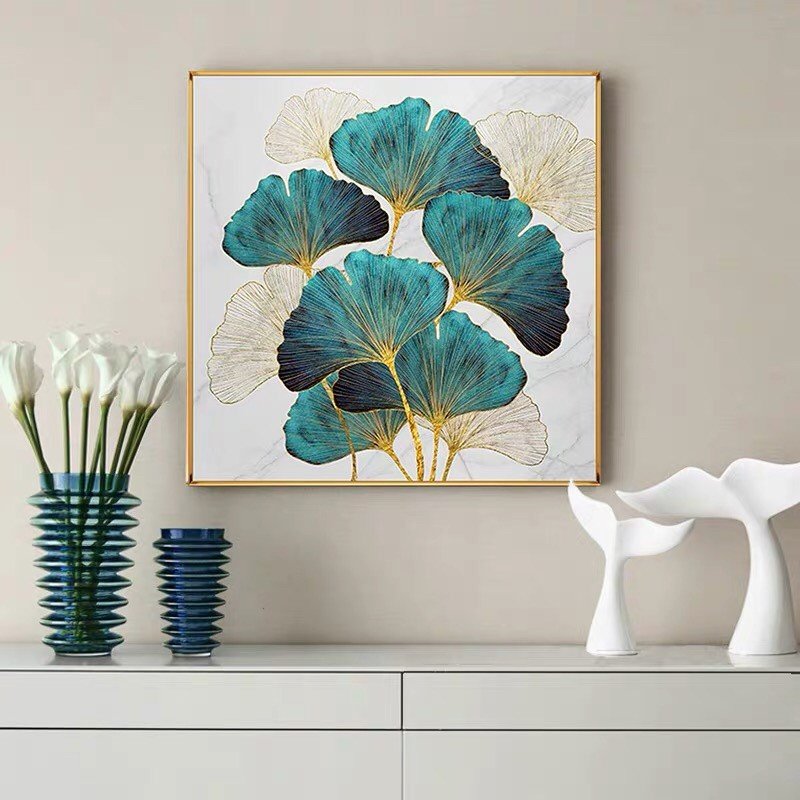 Many innovative living room wall decorations are changing the game when it comes to personalization. Turn your walls into windows to the world with canvas photo prints. They depict natural landscapes, famous cities, poetic scenes with a neat and durable finish. They are available in all sizes.
You also can print photos on a glass board, a metal plate, or a plywood board. You can give your living room a modern, industrial or vintage look. Another trend: stickers, colored or plain, which allow you to create a custom decoration in a few minutes.
Define thematic spaces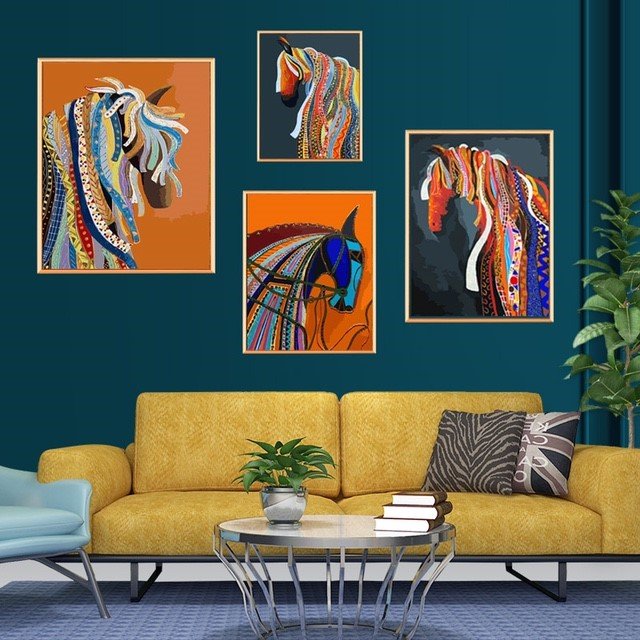 To avoid the art gallery effect, don't pile up similar wall decorations at the same height, all-around your room. Give life to your living room by defining thematic spaces: art reproductions above the sofa, photos of your loved ones around the TV screen, travel souvenirs on shelves… Each space can have a dedicated color palette: soft colors for children's photo frames, black and white for canvas prints.
Mix influences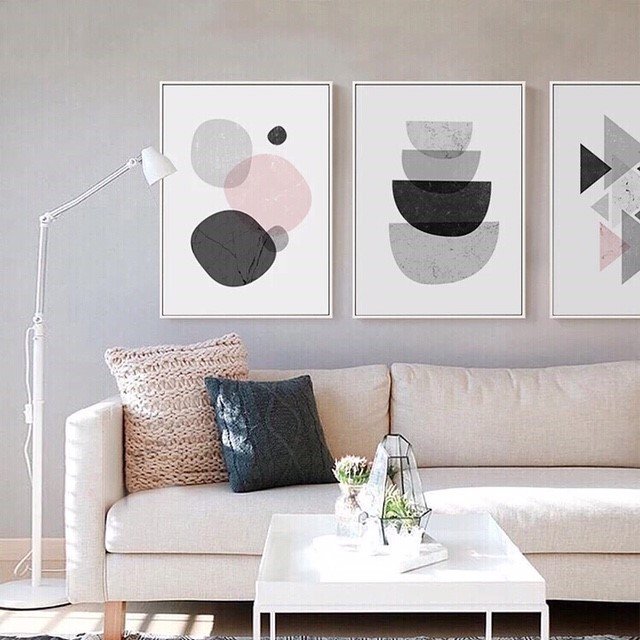 The Scandinavian style is a huge success, and rightly so. We love its soft colors, its soft shapes, its natural materials. But a monochromatic living room wall decoration lacking in fantasy risks becoming boring. Twist this pure design by incorporating bright touches and different materials. Mix stainless steel frames, vintage posters, and printed metal plates, for example. The industrial style fits very well in a Scandinavian interior. Go for large, weathered metal mirrors with exposed bolts or iron shelves.
A plant wall decoration for your living room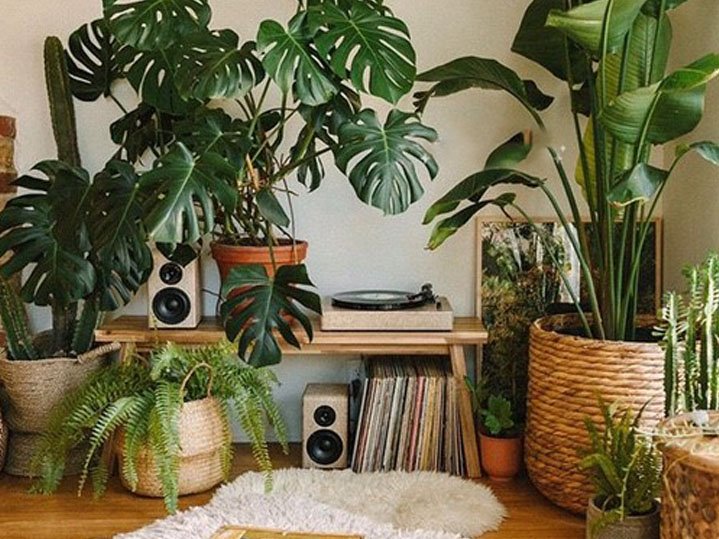 Bring color, freshness, and relief to your room by creating a plant wall. For a living room wall decoration that requires only a minimum of materials, place numerous potted plants crawling and drooping on long wooden or metal shelves. For an even more natural and winter garden feel, use a ladder-like wall shelf or even a raw wood trellis to which you attach vintage galvanized steel flower pots.
Colorful origami to dress up a wall
To liven up the wall decoration of your modern living room, You should choose nothing like origami:
Add a little springtime flair to your living room decor with butterflies delicately placed on the wall. To keep the decor from becoming too overwhelming, use the colors already present as inspiration.
Give your living room walls a geometric look with 3D origami, folded into hexagon or trapezoid shapes. For an even more contemporary effect, opt for a combination of black and white.
If you don't want to stick origami on the wall, put them in frames or display them as mobiles.
Light fixtures for a cozy and flexible atmosphere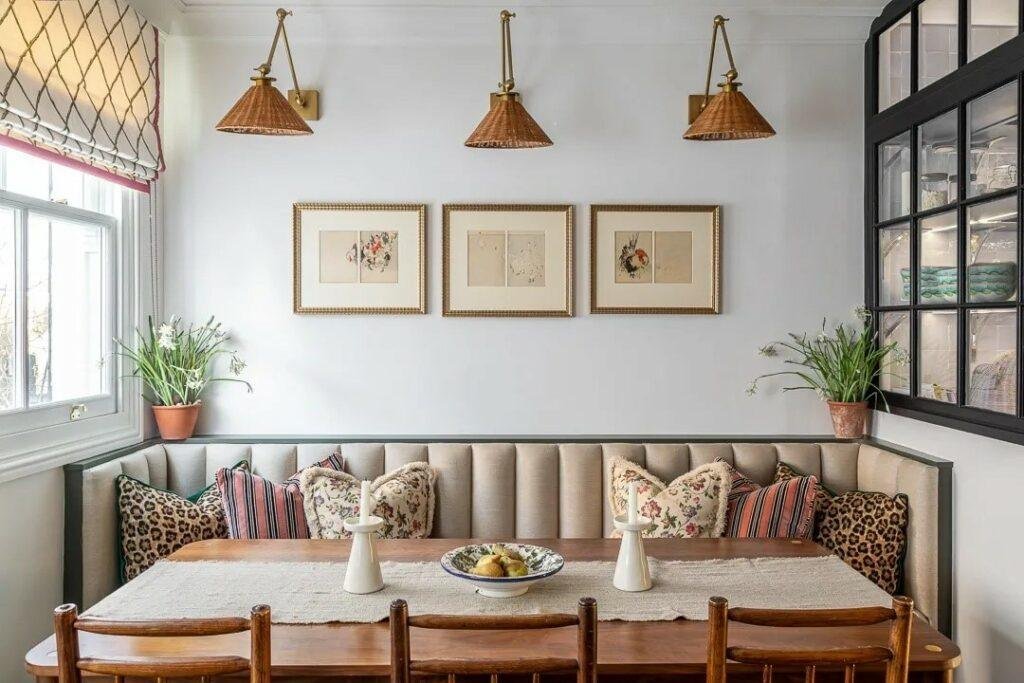 Lighting is also an essential element of the living room. We like to modulate the intensity and direction of the light depending on whether we are watching TV, having an aperitif with guests, or relaxing with a little reading.
The lights are very decorative, both during the day and in the evening. Choose sconces with textile shades and place them at regular intervals in your room for a classic and sophisticated style. For an industrial look, opt for articulated sconces in the style of an architect's lamp. Finally, painted steel ones are particularly suited to contemporary interiors.
Mirrors to enlarge the room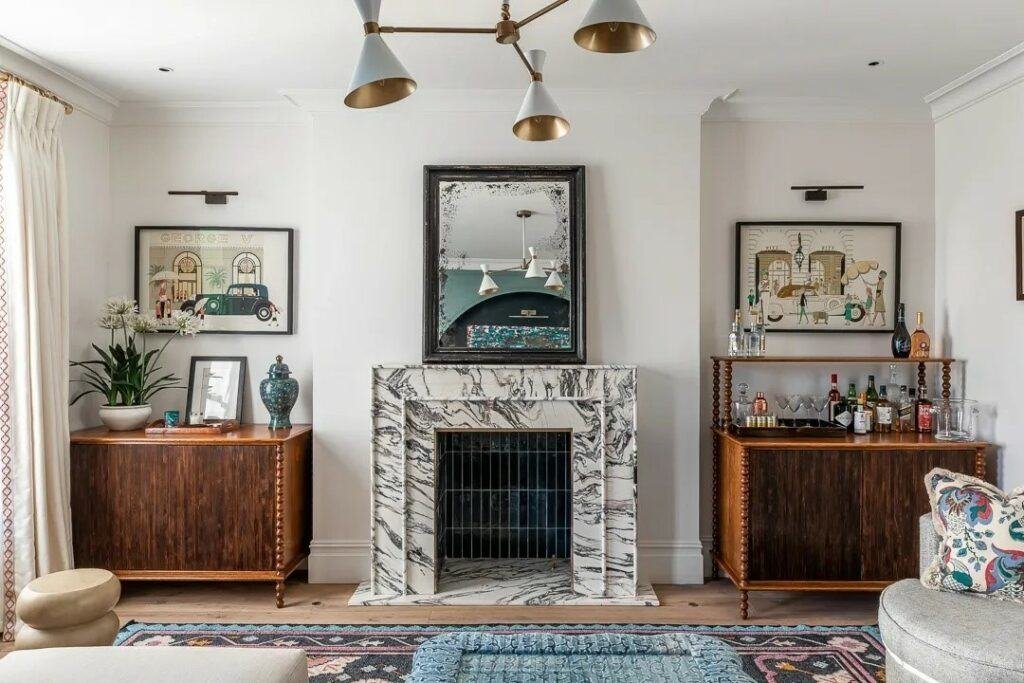 Mirrors accentuate the brightness and space of a room. In addition to being useful, they fit well with any style of interior living room wall decor. Mirrors with wooden beading or a cord to hang them evoke a retro aesthetic, reminiscent of the 1950s and 1970s, while contemporary models are surrounded by brushed metal or lacquered resin. The trend of the moment is copper or bronze-tinted mirrors.
An animal head for an original touch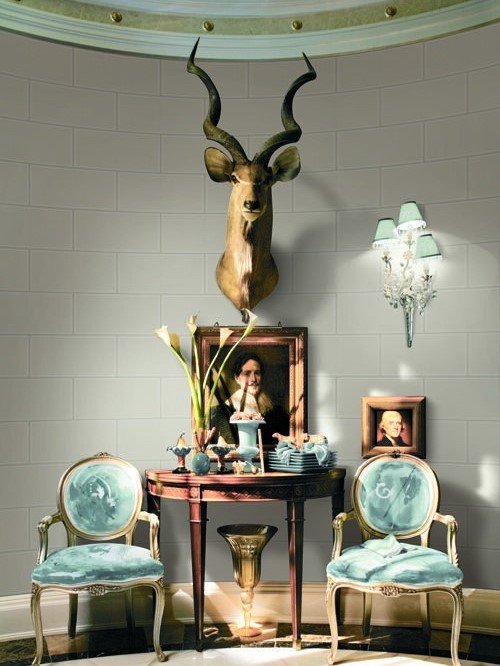 Are you looking for an idea to decorate your country or bohemian living room? An animal head hanging on the wall is just what you need!
For a rustic-inspired but modern-looking decor, opt for a white kraft deer head in 3D, which you can make yourself.
For a traditional country living room wall decoration, get a fox, doe or boar head carved from wood.
For a Wild West feel, display a vintage buffalo or coyote head (in resin or aluminum).
For an exotic living room, turn to giraffes, tigers, elephants… in aged metal if you prefer authentic atmospheres, in cardboard, plastic or even glass to give a design touch to the wall.
Escape atmosphere with tapestries and hangings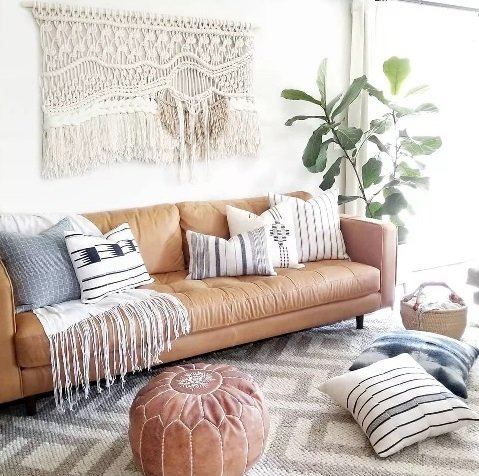 Beautiful fabrics can be displayed on the living room walls to bring warmth and a bohemian atmosphere to the room: patterned hangings of African inspiration, embroidered tapestries from South America, dyed sheets from Asia.
Sometimes, a pretty patterned plaid or a woven rug adorned with bangs reveals all its beauty once hung on the wall. Play on contrasts by finishing your living room wall decoration with a large metal clock for a chic design finish.
Check Out These Living Room Wall Arts Hanging